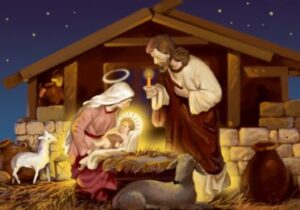 December 7, 2021
Once again, I (Maureen) see a Great Flame that I have come to know as the Heart of God the Father. He says: "Children, if you would, take a mystical journey with Me. You are in the stable kneeling before an empty manger. The stable is very cold, but next to the manger you are warm. Mary and Joseph are on the opposite side of the manger. Suddenly, the Holy Mother's* Arms are filled with 'Light'. She bends forward and places this Light in the manger. As you watch, the Light transforms into the Infant Jesus!** He shivers and the Holy Mother wraps Him in swaddling clothes. All around the manger you hear angels singing. Nothing else matters – just being there by the manger."

"Please pray to be able to keep your hearts detached from the world this Christmas season and remain there in the stable next to the manger."

Read Luke 2:6-7+

And while they were there, the time came for her to be delivered. And she gave birth to her first-born* son and wrapped him in swaddling cloths, and laid him in a manger, because there was no place for them in the inn.

*2:7 first-born: A legal term linked with a son's social standing and rights of inheritance (Deut 21:15-17). It does not imply that Mary had other children after Jesus, only that she had none before him (CCC 500). As the only begotten One, Jesus is also the first-born Son of the Father (Jn 1:18; Col 1:15). See note on Mt 12:46.

+ Scripture verses asked to be read by God the Father.

 

7 de Diciembre del 2021
Nuevamente veo una gran llama que he llegado a reconocer como el Corazón de Dios Padre. Dice: "Hijos, si quieren, hagan Conmigo un viaje místico. Están ustedes arrodillados en el establo frente a un pesebre vacío. Hace mucho frío en el establo, pero junto al pesebre sienten calor. María y José están del otro lado del pesebre. De repente, los Brazos de la Santa Madre se llenan de 'Luz'. Ella se inclina y pone esta Luz en el pesebre. Mientras ustedes miran, ¡la Luz se transforma en el Niñito Jesús! El Niñito tiembla y la Santa Madre lo envuelve en pañales. Alrededor del pesebre escuchan ángeles cantar. No hay nada más que importe; solo estar ahí junto al pesebre."

"Les pido que recen para que esta Navidad puedan mantener sus corazones separados del mundo y puedan permanecer ahí, en el establo, junto al pesebre."

Lean Lucas 2:6-7




Mientras se encontraban en Belén, le llegó el tiempo de ser madre; y María dio a luz a su Hijo primogénito, lo envolvió en pañales y lo acostó en un pesebre, porque no había lugar para ellos en el albergue.
RE: Latest messages are at Holy Love Ministries (www.holylove.org) and Ministerios del Amor Santo (www.amorsanto.com)