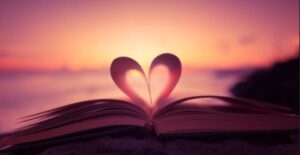 January 5, 2022
Once again, I (Maureen) see a Great Flame that I have come to know as the Heart of God the Father. He says: "Children, I desire that you fall deeply in love with Me – so in love that your whole existence is to please Me; so in love with Me that even the smallest sin seems like an abomination. Souls such as these do not spend a length of time in Purgatory."

"You can find such love in getting to know Me better. Read the Scriptures. Read these Messages.* Discover the Truth – that I desire only your welfare. Allow this Truth to transform your hearts and your lives."

"Then, you will know that I am beside you – lovingly guiding you and listening to your prayers."

Read Psalm 4:2-3+

O sons of men, how long will you be dull of heart? How long will you love vain words, and seek after lies? But know that the Lord has set apart the godly for himself; the Lord hears when I call to him.

Read Psalm 23+

The LORD is my shepherd, I shall not want;

he makes me lie down in green pastures.

He leads me beside still waters;

he restores my soul.

He leads me in paths of righteousness

for his name's sake.

Even though I walk through the valley of the shadow of death,

I fear no evil;

for thou art with me;

your rod and your staff,

they comfort me.

You prepare a table before me

in the presence of my enemies;

you anoint my head with oil,

my cup overflows.

Surely goodness and mercy shall follow me

all the days of my life;

and I shall dwell in the house of the LORD

for ever.

+ Scripture verses asked to be read by God the Father.

 

5 de Enero del 2022
Nuevamente veo una gran llama que he llegado a reconocer como el Corazón de Dios Padre. Dice: "Hijos, quiero que se enamoren profundamente de Mí, tanto, que toda su existencia sea para agradarme a Mí. Que estén tan enamorados de Mí que incluso el pecado más pequeño parezca como algo abominable. Almas como estas no pasan mucho tiempo en el Purgatorio."

"Ustedes pueden encontrar un amor así si llegan a conocerme mejor. Lean las Escrituras. Lean estos Mensajes. Descubran la verdad de que Yo deseo solamente su bienestar. Permitan que esta verdad transforme sus corazones y sus vidas."

"Entonces, ustedes sabrán que Yo estoy a su lado, guiándolos amorosamente y escuchando sus oraciones."

Lean Salmo 4:3-4
Y ustedes, señores, ¿hasta cuando ultrajarán al que es mi Gloria, amarán lo que es falso y buscarán lo engañoso? Sepan que el Señor hizo maravillas por su amigo: él me escucha siempre que lo invoco.

Salmo 23
El Señor es mi pastor, nada me puede faltar. Él me hace descansar en verdes praderas, me conduce a las aguas tranquilas y repara mis fuerzas; me guía por el recto sendero, por amor de su Nombre. Aunque cruce por oscuras quebradas, no temeré ningún mal, porque tú estás conmigo: tu vara y tu bastón me infunden confianza. Tú preparas ante mí una mesa, frente a mis enemigos; unges con óleo mi cabeza y mi copa rebosa. Tu bondad y tu gracia me acompañan a lo largo de mi vida; y habitaré en la Casa del Señor, por muy largo tiempo.
RE: Latest messages are at Holy Love Ministries (www.holylove.org) and Ministerios del Amor Santo (www.amorsanto.com)