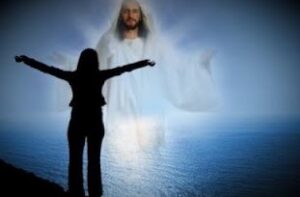 April 27, 2022
Once again, I (Maureen) see a Great Flame that I have come to know as the Heart of God the Father. He says: "Children, spend every present moment in an effort to come closer to Me. This is the way to please Me, and so too, the way to deeper holiness. I pay heed to the prayers of one who desires to please Me much more quickly than someone far distant from Me. Serve others in this effort to please Me. In that way, I serve you."

Read 1 John 3:21-24+

Beloved, if our hearts do not condemn us, we have confidence before God; and we receive from him whatever we ask, because we keep his commandments and do what pleases him. And this is his commandment, that we should believe in the name of his Son Jesus Christ and love one another, just as he has commanded us. All who keep his commandments abide in him, and he in them. And by this we know that he abides in us, by the Spirit which he has given us.

+ Scripture verses asked to be read by God the Father.

 

27 de Abril del 2022
Nuevamente veo una gran llama que he llegado a reconocer como el Corazón de Dios Padre. Dice: "Hijos, empleen cada momento presente esforzándose en acercarse más a Mí. Esta es la manera de agradarme y, también, es el camino a una santidad más profunda. Yo presto atención mucho más rápido a las oraciones de quien desea agradarme que de alguien que está lejos de Mí. Ayuden a los demás en este esfuerzo por agradarme. De esta manera, Yo los ayudaré a ustedes."

Lean 1ª Juan 3:21-24




Queridos míos, si nuestro corazón no nos hace ningún reproche, podemos acercarnos a Dios con plena confianza, y él nos concederá todo cuanto le pidamos, porque cumplimos sus mandamientos y hacemos lo que le agrada. Su mandamiento es este: que creamos en el nombre de su Hijo Jesucristo, y nos amemos los unos a los otros como él nos ordenó. El que cumple sus mandamientos permanece en Dios, y Dios permanece en él; y sabemos que él permanece en nosotros, por el Espíritu que nos ha dado.
RE: Latest messages are at Holy Love Ministries (www.holylove.org) and Ministerios del Amor Santo (www.amorsanto.com)