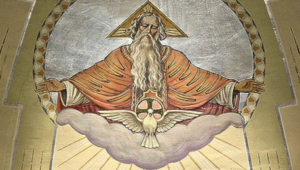 September 22, 2022
Once again, I (Maureen) see a Great Flame that I have come to know as the Heart of God the Father. He says: "Trust in My Divine Providence is based upon your belief in My Love for you. If you know in your heart that I love you, you will understand that whatever comes to you through My Divine Will is always, in the long run, for your best. I lead you to your own salvation in every present moment through people and events which come into your life. Nothing is by accident. If you follow the lead of My Divine Will, you will please Me and I, in return, will try to please you."

"Each soul has his share of problems. However, it is through your trust in Me, you can resolve difficulties and still remain on the path of salvation. Love and trust are partners in your salvation."

Read 1 Corinthians 13:1-7, 13+




If I speak in the tongues of men and of angels, but have not love, I am a noisy gong or a clanging cymbal. And if I have prophetic powers, and understand all mysteries and all knowledge, and if I have all faith, so as to remove mountains, but have not love, I am nothing. If I give away all I have, and if I deliver my body to be burned, but have not love, I gain nothing. Love is patient and kind; love is not jealous or boastful; it is not arrogant or rude. Love does not insist on its own way; it is not irritable or resentful; it does not rejoice at wrong, but rejoices in the right. Love bears all things, believes all things, hopes all things, endures all things. . . So faith, hope, love abide, these three; but the greatest of these is love.




+ Scripture verses asked to be read by God the Father.

 

22 de Septiembre del 2022
Nuevamente veo una gran llama que he llegado a reconocer como el Corazón de Dios Padre. Dice: "La confianza en Mi Divina Providencia se basa en su fe en Mi amor por ustedes. Si en su corazón saben que Yo los amo, comprenderán que cualquier cosa que les llegue a través de Mi Divina Voluntad siempre es, a la larga, lo mejor para ustedes. Yo los guío hacia su salvación en cada momento presente a través de personas y acontecimientos que llegan a sus vidas. Nada pasa por accidente. Si ustedes siguen la dirección de Mi Divina Voluntad, me agradarán a Mí, y Yo, a cambio, trataré de complacerlos."

"Cada alma tiene sus propios problemas. Sin embargo, a través de su confianza en Mí, ustedes pueden resolver las dificultades y aún así seguir en el sendero de la salvación. El amor y la confianza son aliados en su salvación."

Lean 1ª Corintios 13:1-7, 13




Aunque yo hablara todas las lenguas de los hombres y de los ángeles, si no tengo amor, soy como una campana que resuena o un platillo que retiñe. Aunque tuviera el don de la profecía y conociera todos los misterios y toda la ciencia, aunque tuviera toda la fe, una fe capaz de trasladar montañas, si no tengo amor, no soy nada. Aunque repartiera todos mis bienes para alimentar a los pobres y entregara mi cuerpo a las llamas, si no tengo amor, no me sirve para nada. El amor es paciente, es servicial; el amor no es envidioso, no hace alarde, no se envanece, no procede con bajeza, no busca su propio interés, no se irrita, no tiene en cuenta el mal recibido, no se alegra de la injusticia, sino que se regocija con la verdad. El amor todo lo disculpa, todo lo cree, todo lo espera, todo lo soporta. …En una palabra, ahora existen tres cosas: la fe, la esperanza y el amor, pero la más grande de todas es el amor.
RE: Latest messages are at Holy Love Ministries (www.holylove.org) and Ministerios del Amor Santo (www.amorsanto.com)