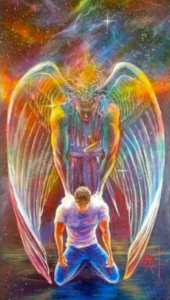 March 10, 2022
Once again, I (Maureen) see a Great Flame that I have come to know as the Heart of God the Father. He says: "Children, if you do not have faith, you cannot trust Me. This is why the Holy Mother's* title, 'Protectress of the Faith', is so important. The measure of your love is one with your trust in Me. If you have fear in your heart, it is a sign of weakened faith. Faith and trust are partners. They are always together."

"My love for you is always the same – unshakable – no matter the depth of your love and trust towards Me. I am always here for you. Turn to Me – most especially in doubts. Loss of faith begins first as a doubt."

Read Romans 8:28+




We know that in everything God works for good with those who love him, who are called according to his purpose.

Read 1 John 4:18+
There is no fear in love, but perfect love casts out fear. For fear has to do with punishment, and he who fears is not perfected in love.

+ Scripture verses asked to be read by God the Father.

 

10 de Marzo del 2022
Nuevamente veo una gran llama que he llegado a reconocer como el Corazón de Dios Padre. Dice: "Hijos, si ustedes no tienen fe, no pueden confiar en Mí. Por esa razón es tan importante la advocación de la Santa Madre como 'Protectora de la Fe'. La medida del amor que tengan es igual a su confianza en Mí. Si ustedes tienen miedo en el corazón, esto es una señal de una fe débil. La fe y la confianza son compañeras. Siempre van juntas."

"Mi amor por ustedes siempre es el mismo; inquebrantable, independientemente de la profundidad de su amor y confianza en Mí. Yo siempre estoy aquí para ustedes. Acudan a Mí; sobre todo en las dudas. La pérdida de fe inicia primero como una duda."

Lean Romanos 8:28




Sabemos, además, que Dios dispone todas las cosas para el bien de los que lo aman, de aquellos que él llamó según su designio.

1ª Juan 4:16-18
En el amor no hay lugar para el temor: al contrario, el amor perfecto elimina el temor, porque el temor supone un castigo, y el que teme no ha llegado a la plenitud del amor.
RE: Latest messages are at Holy Love Ministries (www.holylove.org) and Ministerios del Amor Santo (www.amorsanto.com)