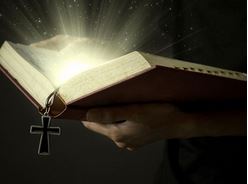 November 29, 2022
Once again, I (Maureen) see a Great Flame that I have come to know as the Heart of God the Father. He says: "Children, in order to maintain peace of heart, you must ward off anything which opposes Holy Love* in your heart. These things could be certain situations, certain people or fears of future events, which may never occur. Sometimes, Satan tempts the soul to cling to his own free will which is in opposition to My Divine Will. Other times, the soul does not accept the All-Powerful defines of My Mercy over his own past sins. Any misgivings the soul harbors in his heart towards his relationship with Me is not based in Truth so long as the soul desires an ever-deepening union with Me."

"Therefore, do not ruminate over your failings in this regard, but celebrate your victories in Holy Love. I judge the Truth and depth of Holy Love in your heart. Your weaknesses, in this regard, stand only as distractions from a more perfect love."

Read 1 Corinthians 13:4-7, 13+




Love is patient and kind; love is not jealous or boastful; it is not arrogant or rude. Love does not insist on its own way; it is not irritable or resentful; it does not rejoice at wrong, but rejoices in the right. Love bears all things, believes all things, hopes all things, endures all things. . . So faith, hope, love abide, these three; but the greatest of these is love.

+ Scripture verses asked to be read by God the Father.

 

29 de Noviembre del 2022
Nuevamente veo una gran llama que he llegado a reconocer como el Corazón de Dios Padre. Dice: "Hijos, para poder mantener la paz del corazón, tienen que protegerse de todo lo que se opone al Amor Santo en el corazón. Estas cosas podrían ser ciertas situaciones, ciertas personas o miedos a acontecimientos futuros que quizá nunca sucedan. A veces, Satanás tienta al alma para que se aferre a su propia voluntad, lo cual es contrario a Mi Divina Voluntad. Otras veces, el alma no acepta las determinaciones todopoderosas de Mi misericordia sobre sus pecados pasados. Si el alma desea una unión Conmigo cada vez más profunda, cualquier duda que albergue en su corazón hacia su relación Conmigo no se basa en la verdad."

"Por lo tanto, no anden rumiando sobre sus fracasos en este sentido, sino celebren sus victorias en el Amor Santo. Yo juzgo la verdad y la profundidad del Amor Santo en sus corazones. Sus debilidades, en este sentido, solo son distracciones para un amor más perfecto."

Lean 1ª Corintios 13:4-7, 13




El amor es paciente, es servicial; el amor no es envidioso, no hace alarde, no se envanece, no procede con bajeza, no busca su propio interés, no se irrita, no tiene en cuenta el mal recibido, no se alegra de la injusticia, sino que se regocija con la verdad. El amor todo lo disculpa, todo lo cree, todo lo espera, todo lo soporta. …En una palabra, ahora existen tres cosas: la fe, la esperanza y el amor, pero la más grande de todas es el amor.
RE: Latest messages are at Holy Love Ministries (www.holylove.org) and Ministerios del Amor Santo (www.amorsanto.com)