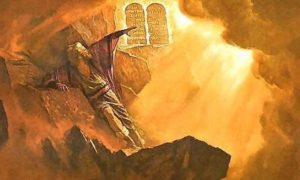 Once again, I (Maureen) see a Great Flame that I have come to know as the Heart of God the Father. He says: "Children, I come to you, still again, to help you to direct your free will towards your own salvation. Like any caring father, I am solicitous after your every need. Still, the final decision to embrace My Commandments remains up to each soul. Indifference to My Call is the same as rejecting Me and My Commandments."

"I never turn My Back on any soul, even the greatest sinner. I call every soul out of the darkness into the light. I do not promise that those who embrace the light of My Call will not have to embrace the cross, as well. Indeed, the cross is often a sign of My affection towards some special souls – victim souls. I always send help to those who willingly embrace their crosses. I continue to send grace into the lives of those who are unbelievers – the indifferent. I reach out to them in their daily lives. My Provision is perfect towards each one's salvation. Souls are given chances over-and-over to choose good versus evil."

"My Provision is the reason I come here* to give you these Messages.** Yet, even though I transcend time and space, few there are who listen worldwide." (9/30/2018)

"Listen with believing hearts. That is My consolation."

* The apparition site of Maranatha Spring and Shrine.
* The Messages of Holy and Divine Love at Maranatha Spring and Shrine.

Read Isaiah 15:5+

My heart cries out for Moab;
his fugitives flee to Zoar,
to Eg'lath-shelish'iyah.
For at the ascent of Lu'hith
they go up weeping;
on the road to Horona'im
they raise a cry of destruction;

Read Romans 2:4-8+

Or do you presume upon the riches of his kindness and forbearance and patience? Do you not know that God's kindness is meant to lead you to repentance? But by your hard and impenitent heart you are storing up wrath for yourself on the day of wrath when God's righteous judgment will be revealed. For he will render to every man according to his works: to those who by patience in well-doing seek for glory and honor and immortality, he will give eternal life; but for those who are factious and do not obey the truth, but obey wickedness, there will be wrath and fury.

+ Scripture verses asked to be read by God the Father.

Nuevamente veo una gran llama que he llegado a reconocer como el Corazón de Dios Padre. Dice: "Hijos, otra vez vengo a ustedes para ayudarlos a orientar su libre voluntad hacia su propia salvación. Como cualquier padre cuidadoso, Yo estoy atento a sus necesidades. No obstante, la decisión final de abrazar Mis mandamientos sigue dependiendo de cada alma. La indiferencia a Mi llamado es lo mismo que rechazarme a Mí y a Mis mandamientos."

"Yo nunca doy la espalda a ningún alma, ni siquiera al más grande pecador. Yo llamo a cada alma a que salga de la oscuridad y entre a la luz. No prometo que quienes abracen la luz de Mi llamado no tendrán que abrazar también la cruz. De hecho, a veces la cruz es una señal de Mi afecto hacia algunas almas especiales; las almas víctimas. Yo siempre envío ayuda a quienes abrazan sus cruces de buen grado. Yo sigo enviando gracia a las vidas de quienes no creen y a los indiferentes. Me acerco a ellos en su vida diaria. Mi Provisión es perfecta para la salvación de cada persona. Las almas reciben oportunidades una y otra vez para elegir el bien frente al mal."

"Es por Mi Provisión que Yo vengo aquí a darles estos Mensajes. No obstante, aunque trasciendo el tiempo y espacio, son pocos los que escuchan a nivel mundial."

"Escuchen con corazones creyentes. Ese es Mi consuelo."

Lean Isaías 15:5
Mi corazón grita por Moab, sus fugitivos llegan hasta Soar, hasta Eglat Selisiyá. Sí, por la subida de Lujit, la gente sube llorando; sí, por el camino de Joronaim se lanza un grito desgarrador.

Romanos 2:4-8
¿O desprecias la riqueza de la bondad de Dios, de su tolerancia y de su paciencia, sin reconocer que esa bondad te debe llevar a la conversión? Por tu obstinación en no querer arrepentirte, vas acumulando ira para el día de la ira, cuando se manifiesten los justos juicios de Dios, que retribuirá a cada uno según sus obras. Él dará la Vida eterna a los que por su constancia en la práctica del bien, buscan la gloria, el honor y la inmortalidad. En cambio, castigará con la ira y la violencia a los rebeldes, a los que no se someten a la verdad y se dejan arrastrar por la injusticia.
RE: Latest messages are at Holy Love Ministries and Ministerios del Amor Santo