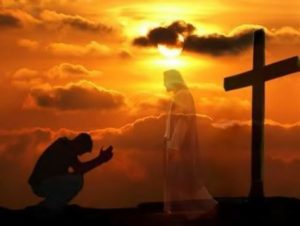 Once again, I (Maureen) see a Great Flame that I have come to know as the Heart of God the Father. He says: "My Provision is always complete and perfect. It is timely in its coming. It always is accompanied with the grace to embrace each cross."

"Therefore, never feel you face any difficulty alone. Know that I am with you. It is I Who lead you to victory. It is I Who support you in defeat. It is My Grace that is your strength. Choose to be closer to Me so that My directions are clearer to you. Those whom I place close to you are there for My purpose. Either it is for their own edification or to assist you in fulfilling My directions. Often, I support you through others."

"Nothing happens apart from My Will. My Will always comes with a perfect solution." (5/11/2018)

Read Ephesians 4:7+

But grace was given to each of us according to the measure of Christ's gift.

+ Scripture verses asked to be read by God the Father.

Nuevamente veo una gran llama que he llegado a reconocer como el Corazón de Dios Padre. Dice: "Mi Provisión siempre es completa y perfecta. Es puntual en su llegada. Siempre está acompañada de la gracia para abrazar cada cruz."

"Por lo tanto, nunca sientan que enfrentan alguna dificultad ustedes solos. Sepan que Yo estoy con ustedes. Soy Yo quien los guía hacia la victoria. Soy Yo quien los sostiene en la derrota. Mi gracia es su fuerza. Elijan estar cerca de Mí para que Mis direcciones sean más claras para ustedes. Aquellos a quienes Yo pongo cerca de ustedes están ahí para Mis propósitos. O es para la edificación de ellos o para ayudarlos a ustedes en el cumplimiento de Mis direcciones. Muchas veces, Yo los sostengo por medio de otras personas."

"Nada sucede excepto por Mi Voluntad. Mi Voluntad siempre llega con una perfecta solución."

Lean Efesios 4:7
Sin embargo, cada uno de nosotros ha recibido su propio don, en la medida que Cristo los ha distribuido.
RE: Latest messages are at Holy Love Ministries and Ministerios del Amor Santo