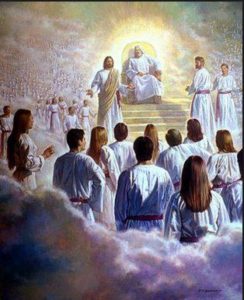 May 19, 2022
Once again, I (Maureen) see a Great Flame that I have come to know as the Heart of God the Father. He says: "Children, you have to have courage in order to trust – courage in the fact that I can be in charge and work towards your welfare. This means you are courageous enough to give up control and allow Me to be in charge. That is what trust is. Love Me enough to be able to trust Me. Know Me well enough to trust Me. It is impossible to trust someone you do not even know. Your courage in My Omnipotence leads to trust. My efforts in your behalf are far above human capabilities. Pray for the courage to trust in Me. Then, you will be empowered to trust. You cannot trust or have courage if you do not love."

Read Romans 8:28+




We know that in everything God works for good with those who love him, who are called according to his purpose.




+ Scripture verses asked to be read by God the Father.

 

19 de Mayo del 2022
Nuevamente veo una gran llama que he llegado a reconocer como el Corazón de Dios Padre. Dice: "Hijos, para confiar, deben tener valentía; valentía en el hecho de que Yo puedo estar a cargo y obrar en aras de su bienestar. Esto significa que son lo suficientemente valientes como para ceder el control y permitirme estar a cargo. De eso se trata la confianza. Ámenme lo suficiente para poder confiar en Mí. Conózcanme lo suficientemente bien como para confiar en Mí. No es posible confiar en alguien que ni siquiera conocen. Su valentía dentro de Mi omnipotencia los lleva a la confianza. Mis esfuerzos en su favor están muy por encima de las capacidades humanas. Recen pidiendo valentía para confiar en Mí. Entonces estarán capacitados para confiar. No pueden confiar ni tener valentía si no aman."

Lean Romanos 8:28




Sabemos, además, que Dios dispone todas las cosas para el bien de los que lo aman, de aquellos que él llamó según su designio.
RE: Latest messages are at Holy Love Ministries (www.holylove.org) and Ministerios del Amor Santo (www.amorsanto.com)