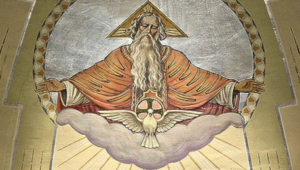 December 21, 2021
Once again, I (Maureen) see a Great Flame that I have come to know as the Heart of God the Father. He says: "Children, no one is more capable of dealing with your problems than I – your Heavenly Father. Through Me, all things are possible. The most important prayer is the prayer to accept My Will in your hearts and in your lives. The soul who can accomplish this, is at peace."

"This Christmas season, practice forgiveness – in the present and through the past. Do not harbor bitter memories, as this is just so much clutter taking up space in your heart. Examine the ways My Grace has intervened in your lives – changed situations and people's opinions. Overall, you will see My Perfect Provision even in the most desperate of situations. Confide in Me your problems and allow Me to take over. My Ways are not human ways and often unexpected. The battle to win your salvation continues until your last breath. You surrender to My Will when you accept My Will. Many cannot find peace until they forgive themselves."

Read Colossians 3:12-15+




Put on then, as God's chosen ones, holy and beloved, compassion, kindness, lowliness, meekness, and patience, forbearing one another and, if one has a complaint against another, forgiving each other; as the Lord has forgiven you, so you also must forgive. And above all these put on love, which binds everything together in perfect harmony. And let the peace of Christ rule in your hearts, to which indeed you were called in the one body. And be thankful.




+ Scripture verses asked to be read by God the Father.

 

21 de Diciembre del 2021
Nuevamente veo una gran llama que he llegado a reconocer como el Corazón de Dios Padre. Dice: "Hijos, nadie está más capacitado para lidiar con sus problemas que Yo, su Padre Celestial. A través Mío, todo es posible. La oración más importante es la oración pidiendo aceptar Mi Voluntad en sus corazones y en sus vidas. El alma que puede lograr esto está en paz."

"En esta época de Navidad, practiquen el perdón; en el presente y por el pasado. No alberguen recuerdos dolorosos, porque esto no es más que demasiado desorden ocupando lugar en el corazón. Examinen las formas en que Mi gracia ha intervenido en sus vidas; en situaciones que cambiaron y en las opiniones de las personas. En general, verán Mi perfecta provisión, incluso en las situaciones más dramáticas. Confíenme sus problemas y dejen que Yo tome el control. Mis caminos no son caminos humanos y, con frecuencia, son inesperados. La batalla para ganar su salvación se prolonga hasta su último aliento. Ustedes se rinden a Mi Voluntad cuando la aceptan. Muchos no pueden encontrar la paz hasta que se perdonan a sí mismos."

Lean Colosenses 3:12-15




Como elegidos de Dios, sus santos y amados, revístanse de sentimientos de profunda compasión. Practiquen la benevolencia, la humildad, la dulzura, la paciencia. Sopórtense los unos a los otros, y perdónense mutuamente siempre que alguien tenga motivo de queja contra otro. El Señor los ha perdonado: hagan ustedes lo mismo. Sobre todo, revístanse del amor, que es el vínculo de la perfección. Que la paz de Cristo reine en sus corazones: esa paz a la que han sido llamados, porque formamos un solo Cuerpo. Y vivan en la acción de gracias.
RE: Latest messages are at Holy Love Ministries (www.holylove.org) and Ministerios del Amor Santo (www.amorsanto.com)