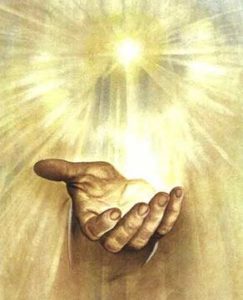 October 20, 2022
Once again, I (Maureen) see a Great Flame that I have come to know as the Heart of God the Father. He says: "Children, when in the course of your day you are met with problems and difficulties, depend on the grace that is just around the corner. Never despair of My Heavenly Hand which will guide you and lead you. Often, these problems exist to earn grace for you and for others. Problems are the way of saving other souls."

"Grace is a difficult thing to trust in. You can't see it. You cannot place a timeline on it. It all goes back to that one thing – trust. If you know Me and you love Me, you will be able to trust Me. Your trust in Me is commensurate with your love of Me. When troubles arise, just step back. Take a breath. Then, wait to see how I will resolve your difficulties. The more you believe in My Love for you, the easier it is to trust."

Read Psalm 5:11-12+




But let all who take refuge in you rejoice, let them ever sing for joy; and do defend them, that those who love your name may exult in you. For you bless the righteous, O Lord; You will cover him with favor as with a shield.




+ Scripture verses asked to be read by God the Father.

 

20 de Octubre del 2022
Nuevamente veo una gran llama que he llegado a reconocer como el Corazón de Dios Padre. Dice: "Hijos, cuando se encuentren con problemas y dificultades en el transcurso del día, dependan de la gracia que está a la vuelta de la esquina. Nunca desesperen de Mi Mano celestial que los guiará y los conducirá. Con frecuencia, estos problemas existen para obtener gracia para ustedes y para los demás. Los problemas son la manera de salvar a otras almas."

"Es difícil confiar en la gracia. No pueden verla. No pueden ponerle una línea de tiempo. Todo se remonta a aquella sola cosa: la confianza. Si ustedes me conocen y me aman, van a poder confiar en Mí. Su confianza en Mí es equivalente a su amor por Mí. Cuando surjan los problemas, solo den un paso atrás. Tomen un respiro. Después, esperen a ver cómo Yo resolveré sus dificultades. Mientras más crean en Mi amor por ustedes, más fácil es confiar."

Lean Salmo 5:12-13




Así se alegrarán los que en ti se refugian y siempre cantarán jubilosos; tú proteges a los que aman tu Nombre, y ellos se llenarán de gozo. Porque tú, Señor, bendices al justo, como un escudo lo cubre tu favor.
RE: Latest messages are at Holy Love Ministries (www.holylove.org) and Ministerios del Amor Santo (www.amorsanto.com)