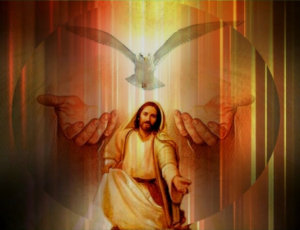 2nd Day within the Octave of Christmas*
December 26, 2022
Once again, I (Maureen) see a Great Flame that I have come to know as the Heart of God the Father. He says: "Children, if you are joyful and at peace today it is because you based your celebration of Christmas on Jesus' Birth. Sometimes, you try so hard to please others and you are unsuccessful. My Son** and I reciprocate all your efforts to please Us by placing joy and peace in your hearts. Concentrate upon Our Joy and Acceptance of your loving efforts and you will be at peace as you will be of good will. Pray for the needs of the poor who are so appreciative of your smallest efforts."

Read Luke 2:13-14+




And suddenly there was with the angel a multitude of the heavenly host praising God and saying, "Glory to God in the highest, and on earth peace among men with whom he is pleased!"




+ Scripture verses asked to be read by God the Father.




* See 'The Octave of Christmas' by clicking here: https://www.catholicculture.org/commentary/octave-christmas/




** For a PDF of the handout: 'WHAT IS HOLY LOVE', please see: https://www.holylove.org/What_is_Holy_Love

 

26 de Diciembre del 2022
Nuevamente veo una gran llama que he llegado a reconocer como el Corazón de Dios Padre. Dice: "Hijos, si están alegres y en paz hoy es gracias a que basaron la celebración de la Navidad en el nacimiento de Jesús. A veces, ustedes se esfuerzan mucho en complacer a los demás y no lo logran. Mi Hijo y Yo correspondemos a todos sus esfuerzos por complacernos poniendo alegría y paz en sus corazones. Concéntrense en Nuestra alegría y aceptación de sus esfuerzos amorosos y estarán en paz, porque estarán bien dispuestos. Recen por las necesidades de los pobres que tanto aprecian sus más pequeños esfuerzos."

Lean Lucas 2:13-14




Y junto con el Ángel, apareció de pronto una multitud del ejército celestial, que alababa a Dios, diciendo: "¡Gloria a Dios en las alturas, y en la tierra, paz a los hombres amados por él!".
RE: Latest messages are at Holy Love Ministries (www.holylove.org) and Ministerios del Amor Santo (www.amorsanto.com)