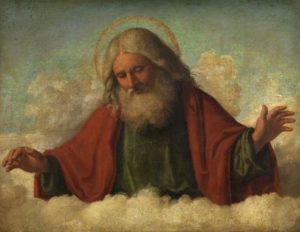 I see a great Flame that I (Maureen) have come to know as the Heart of God the Father. He says: "I am the Eternal Now. It is I Who created the universe. It is I Who set in place every star, the sun and each planet. I created time and space. I create each soul and the eternity each one earns. Nothing escapes My Paternal gaze. Every trial and every victory has its purpose. Comprehend My Charge over you, for I desire My Bosom be your resting place."

"Oh, how I long to be recognized as Father of all people and all nations. When you celebrate Father's Day this month* remember Me as such. My Paternity reaches all ages and knows no boundary. Accept My Dominion and My Paternal Love and allow Me to embrace you."

* Sunday, June 18, 2017

Read Genesis 2:6-7+

…but a mist went up from the earth and watered the whole face of the ground – then the Lord God formed man of dust from the ground, and breathed into his nostrils the breath of life; and man became a living being. (6/8/2017)

+-Scripture verses asked to be read by God the Father. 

Veo una gran llama que he llegado a reconocer como el Corazón de Dios Padre. Dice: "Yo soy el Eterno Ahora. Soy Yo quien creó el universo. Soy Yo quien pone en su lugar cada estrella, el Sol y cada planeta. Yo creé el tiempo y el espacio. Yo creo cada alma y la eternidad que cada una obtiene. Nada se escapa a Mi mirada paternal. Cada prueba y cada victoria tiene su propósito. Comprendan Mi cuidado sobre ustedes, pues Yo deseo que Mi Pecho sea su lugar de descanso."

"Oh, cuánto anhelo que se me reconozca como el Padre de todos los pueblos y todas las naciones. Cuando celebren el Día del Padre este mes (el domingo, 18 de junio), recuérdenme como tal. Mi paternidad llega a todas las generaciones y no conoce fronteras. Acepten Mi dominio y Mi amor paternal, y permítanme que Yo los abrace."

Lean Génesis 2:6-7
…pero un manantial surgía de la tierra y regaba toda la superficie del suelo. Entonces el Señor Dios modeló al hombre con arcilla del suelo y sopló en su nariz un aliento de vida. Así el hombre se convirtió en un ser viviente.
WWW.HOLYLOVE.ORG                                                    WWW.AMORSANTO.COM