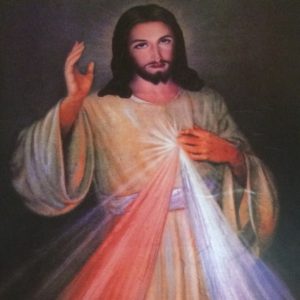 April 24, 2022 · (This Message was given in multiple parts over several days.)

Jesus says: "I am your Jesus, born Incarnate." Continued… "Children, today, be at peace as you abide in the Mercy of My Heart. Practice My Mercy by forgiving one another and living in harmony. My Mercy will soon pass into My Hour of Justice. Therefore, prepare your hearts by cleansing them of any iniquity and awaiting My Second Coming."

"Today, I come to you, asking you to place My Mercy in your hearts as it is My most important gift to you. Do not allow the world or the people in the world to talk you out of it. For I am always ready to forgive the repentant heart."

"There are many here** today who will receive answers to their prayers, others will not recognize My answer and may not be satisfied, but I still love them, and I'm asking them to accept My Divine Will in their lives."

"Today, My brothers and sisters, I'm blessing you."

The Heavenly Father is extending His Triple Blessing*** at this time.

Read Ephesians 5:6-13+ Let no one deceive you with empty words, for it is because of these things that the Wrath of God comes upon the sons of disobedience. Therefore do not associate with them, for once you were darkness, but now you are light in the Lord; walk as children of light (for the fruit of light is found in all that is good and right and true), and try to learn what is pleasing to the Lord. Take no part in the unfruitful works of darkness, but instead expose them. For it is a shame even to speak of the things that they do in secret; but when anything is exposed by the light it becomes visible, for anything that becomes visible is light. + Scripture verses asked to be read by Jesus.

+ Scripture verses asked to be read by Jesus.

 

24 de Abril del 2022
Fiesta de la Divina Misericordia
Oración de las 3:00 P.M. en el Campo de los Corazones Unidos
(Este mensaje se dio por partes en días recientes.)
Jesús dice: "Yo soy tu Jesús, nacido Encarnado."

"Hijos, estén en paz hoy mientras moran en la misericordia de Mi Corazón. Practiquen Mi misericordia perdonándose unos a otros y viviendo en armonía. Mi misericordia pronto cederá a Mi hora de la justicia. Por lo tanto, preparen sus corazones purificándolos de cualquier iniquidad y esperando Mi Segunda Venida."




"Hoy vengo a ustedes pidiéndoles que pongan Mi misericordia en sus corazones, ya que es Mi regalo más importante para ustedes. No permitan que el mundo o las personas en el mundo los convenzan de no hacerlo, porque Yo siempre estoy listo para perdonar al corazón arrepentido."




"Hay muchas personas aquí hoy que recibirán respuestas a sus oraciones, otros no reconocerán Mi respuesta y quizá no estén satisfechos, pero Yo sigo amándolos y les pido que acepten Mi Divina Voluntad en sus vidas."




"Hoy, hermanos Míos, los bendigo."




El Padre Celestial está extendiendo Su triple Bendición en este momento.

Lean Efesios 5:6-13




No se dejen engañar por falsas razones: todo eso atrae la ira de Dios sobre los que se resisten a obedecerle. ¡No se hagan cómplices de los que obran así! Antes, ustedes eran tinieblas, pero ahora son luz en el Señor. Vivan como hijos de la luz. Ahora bien, el fruto de la luz es la bondad, la justicia y la verdad. Sepan discernir lo que agrada al Señor, y no participen de las obras estériles de las tinieblas; al contrario, pónganlas en evidencia.
RE: Latest messages are at Holy Love Ministries (www.holylove.org) and Ministerios del Amor Santo (www.amorsanto.com)