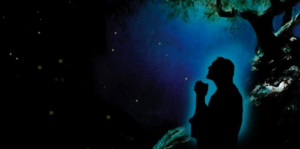 December 23, 2021
Once again, I (Maureen) see a Great Flame that I have come to know as the Heart of God the Father. He says: "Today, children, is nearing the final day of preparation for the great feast of Christmas. Consider your problems and unresolved issues in your lives and in your hearts, and place them in the abode of My Paternal Heart. You often cannot anticipate the solutions I have for each situation. Therefore, let time play out and await the grace I will send."

"Pray for the grace to appreciate and to accept My Divine Will for you. The greatest measure of My Grace awaits the most desperate situations. You are never alone so long as you depend upon Me."

"It is My Grace which attracts more and more souls to these Messages* and inspires belief in the way of Holy Love. You do not realize the profound difference you can make in a person's life by simply propagating copies of the Messages. I use each of you to be My Messengers, to be My arms and legs and voice in the world today. That is your mission – to strengthen My Mission** in the world."

Read Philippians 4:6-7+

Have no anxiety about anything, but in everything by prayer and supplication with thanksgiving let your requests be made known to God. And the peace of God, which passes all understanding, will keep your hearts and your minds in Christ Jesus.

+ Scripture verses asked to be read by God the Father.

 

23 de Diciembre del 2021
Nuevamente veo una gran llama que he llegado a reconocer como el Corazón de Dios Padre. Dice: "Hijos, se acerca el último día de preparación para la gran fiesta de la Navidad. Reflexionen sobre sus problemas y asuntos sin resolver en sus vidas y en sus corazones, y pónganlos en la morada de Mi Corazón Paternal. Con frecuencia, ustedes no pueden anticipar las soluciones que Yo tengo para cada situación. Por lo tanto, dejen que transcurra el tiempo y aguarden la gracia que Yo enviaré."

"Recen pidiendo la gracia de apreciar y aceptar Mi Divina Voluntad para ustedes. La porción más grande de Mi gracia aguarda las situaciones más críticas. Ustedes nunca están solos, siempre y cuando dependan de Mí."

"Es Mi gracia lo que atrae cada vez más almas a estos Mensajes e inspira a creer en el camino del Amor Santo. Ustedes no se dan cuenta de la gran diferencia que pueden hacer en la vida de una persona con tal solo propagar copias de los Mensajes. Yo utilizo a cada uno de ustedes para que sean Mis mensajeros, Mis brazos y piernas y Mi voz en el mundo de hoy. Esa es su misión; fortalecer Mi misión en el mundo."

Lean Filipenses 4:6-7
No se angustien por nada, y en cualquier circunstancia, recurran a la oración y a la súplica, acompañadas de acción de gracias, para presentar sus peticiones a Dios. Entonces la paz de Dios, que supera todo lo que podemos pensar, tomará bajo su cuidado los corazones y los pensamientos de ustedes en Cristo Jesús.
RE: Latest messages are at Holy Love Ministries (www.holylove.org) and Ministerios del Amor Santo (www.amorsanto.com)