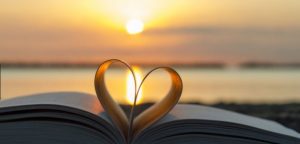 Once again, I (Maureen) see a Great Flame that I have come to know as the Heart of God the Father. He says: "The beginning of every virtue is the moment when Holy Love first enters the heart. This is the importance of the soul's consent to a deeper relationship with Me. I never impose – I invite. These days, My invitation to a deep personal holiness goes unnoticed and deemed unimportant in a world governed by self-love."

"Excessive self-love is the root of all sin. When the soul allows himself to become more important than love of Me, then it is easy for sin to take hold in his heart. This is what you must fear – disordered self-love. If this disordered love were to be conquered in every heart, you would have peace based on personal holiness in the world."

"Reflect for a moment on the Holy Mother's* Sorrows. Each one was the result of disordered self-love in the hearts of others. Even when the Child Jesus was lost, the Holy Mother would not have feared so much for His safety if there was not the danger of the evil in men's hearts."

"Today, the good heart is faced with competing with evil in every present moment. It is a battle which must be won – not only for the sake of each soul, but for the future of the world."(9/15/2019)

* Blessed Virgin Mary.

Read 1 Corinthians 2:6-9+

Yet among the mature we do impart wisdom, although it is not a wisdom of this age or of the rulers of this age, who are doomed to pass away. But we impart a secret and hidden wisdom of God, which God decreed before the ages for our glorification. None of the rulers of this age understood this; for if they had, they would not have crucified the Lord of glory. But, as it is written, "What no eye has seen, nor ear heard, nor the heart of man conceived, what God has prepared for those who love him,".

+ Scripture verses asked to be read by God the Father.

15 de Septiembre del 2019




Fiesta de Nuestra Señora de los Dolores

Nuevamente veo una gran llama que he llegado a reconocer como el Corazón de Dios Padre. Dice: "El comienzo de cada virtud es el momento en el que el Amor Santo entra primero al corazón. Se trata de la importancia del consentimiento del alma a tener una relación más profunda Conmigo. Yo nunca impongo. Yo invito. En la actualidad, Mi invitación a una profunda santidad personal pasa desapercibida y no se considera importante en un mundo gobernado por el amor propio."

"La raíz de todo pecado es el amor propio excesivo. Cuando el alma se permite volverse más importante que el amor por Mí, entonces es fácil que el pecado se apodere de su corazón. A esto es a lo que deben tenerle miedo: al amor propio desordenado. Si este amor desordenado fuera derrotado en cada corazón, tendrían paz en el mundo basada en la santidad personal."

"Mediten por un momento en los dolores de la Santa Madre. Cada dolor fue el resultado del amor propio desordenado en los corazones de los demás. Incluso cuando el Niño Jesús se perdió, la Santa Madre no hubiera tenido tanto miedo por Su seguridad si no existiera el peligro de la maldad en los corazones de los hombres."

"Hoy día, el corazón bueno se enfrenta con el rival del mal en cada momento presente. Es una batalla que tiene que ganarse, no solamente por el bien de cada alma, sino por el futuro del mundo."

Lean 1ª Corintios 2:6-9
Es verdad que anunciamos una sabiduría entre aquellos que son personas espiritualmente maduras, pero no la sabiduría de este mundo ni la que ostentan los dominadores de este mundo, condenados a la destrucción. Lo que anunciamos es una sabiduría de Dios, misteriosa y secreta, que él preparó para nuestra gloria antes que existiera el mundo; aquella que ninguno de los dominadores de este mundo alcanzó a conocer, porque si la hubieran conocido no habrían crucificado al Señor de la gloria. Nosotros anunciamos, como dice la Escritura, lo que nadie vio ni oyó y ni siquiera pudo pensar, aquello que Dios preparó para los que lo aman.
RE: Latest messages are at Holy Love Ministries and Ministerios del Amor Santo