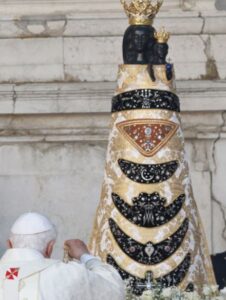 Feast of our Lady of Loreto
December 10, 2021
Once again, I (Maureen) see a Great Flame that I have come to know as the Heart of God the Father. He says: "Children, I am sending the Holy Mother* to you on Her Feast of Guadalupe.** Please appreciate this Grace and do not allow Satan to discourage you from coming here. I have reserved many special graces for individual souls that day. Today is the designated Feast of Our Lady of Loreto, when the humble home of Loreto was singularly transferred by My angels to its resting place in Italy.*** Celebrate such a powerful Grace and know that I come to the rescue of those who trust in Me – just as I rescued this Mission**** from those who refused to believe."

"Allow Me to be your Refuge in times of trouble. My Power cannot be managed or manipulated by Satan and his minions. In My Embrace, find and depend upon righteous strength."

Read 1 John 3:18-23+

Little children, let us not love in word or speech but in deed and in truth. By this we shall know that we are of the truth, and reassure our hearts before him whenever our hearts condemn us; for God is greater than our hearts, and he knows everything. Beloved, if our hearts do not condemn us, we have confidence before God; and we receive from him whatever we ask, because we keep his commandments and do what pleases him. And this is his commandment, that we should believe in the name of his Son Jesus Christ and love one another, just as he has commanded us.

Read 1 John 4:18+

There is no fear in love, but perfect love casts out fear. For fear has to do with punishment, and he who fears is not perfected in love.

+ Scripture verses asked to be read by God the Father.

 

10 de Diciembre del 2021
Nuevamente veo una gran llama que he llegado a reconocer como el Corazón de Dios Padre. Dice: "Hijos, les voy a enviar a la Santa Madre en Su Fiesta de Guadalupe. Les pido que aprecien esta gracia y no permitan que Satanás los desanime de venir aquí. He reservado muchas gracias especiales para las almas ese día. Hoy es la fiesta designada a Nuestra Señora de Loreto, cuando la humilde Casa de Loreto fue trasladada de forma singular por Mis ángeles a ese lugar de descanso en Italia. Celebren tan poderosa gracia y sepan que Yo vengo al rescate de quienes confían en Mí, así como rescaté esta Misión de aquellos que se negaron a creer."

"Permitan que Yo sea su refugio en los tiempos de tribulación. Mi poder no puede ser manejado o manipulado por Satanás y sus secuaces. Dependan de Mi abrazo y encuentren en él la fuerza justa."

Lean 1ª Juan 3:18-23




Hijitos míos, no amemos con la lengua y de palabra, sino con obras y de verdad. En esto conoceremos que somos de la verdad, y estaremos tranquilos delante de Dios aunque nuestra conciencia nos reproche algo, porque Dios es más grande que nuestra conciencia y conoce todas las cosas. Queridos míos, si nuestro corazón no nos hace ningún reproche, podemos acercarnos a Dios con plena confianza, y él nos concederá todo cuanto le pidamos, porque cumplimos sus mandamientos y hacemos lo que le agrada. Su mandamiento es este: que creamos en el nombre de su Hijo Jesucristo, y nos amemos los unos a los otros como él nos ordenó.

1ª Juan 4:18




En el amor no hay lugar para el temor: al contrario, el amor perfecto elimina el temor, porque el temor supone un castigo, y el que teme no ha llegado a la plenitud del amor.
RE: Latest messages are at Holy Love Ministries (www.holylove.org) and Ministerios del Amor Santo (www.amorsanto.com)