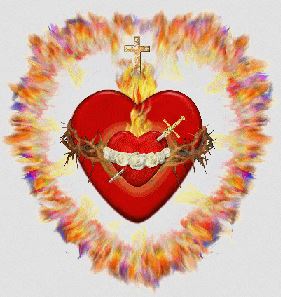 April 29, 2022
Once again, I (Maureen) see a Great Flame that I have come to know as the Heart of God the Father. He says: "Pray, My children, for the courageous martyrs of Holy Love.* These are the ones in this country** that are disbelieved even by Church authority and the ones in far distant countries such as China where just being Christian is a threat to their well-being. The premise of Holy Love is only a threat to those who are far from Me. These are the ones who do not desire to know Me or acknowledge My Commandments.*** They see Holy Love as a threat to their way of life."

"To these, every present moment is a martyrdom, never knowing in what way they will be opposed. Pray for their courageous perseverance in the ways of Holy Love."

Read 1 Corinthians 13:1–7, 13+

If I speak in the tongues of men and of angels, but have not love, I am a noisy gong or a clanging cymbal. And if I have prophetic powers, and understand all mysteries and all knowledge, and if I have all faith, so as to remove mountains, but have not love, I am nothing. If I give away all I have, and if I deliver my body to be burned, but have not love, I gain nothing. Love is patient and kind; love is not jealous or boastful; it is not arrogant or rude. Love does not insist on its own way; it is not irritable or resentful; it does not rejoice at wrong, but rejoices in the right. Love bears all things, believes all things, hopes all things, endures all things. . . So faith, hope, love abide, these three; but the greatest of these is love.

+ Scripture verses asked to be read by God the Father.

 

29 de Abril del 2022
Nuevamente veo una gran llama que he llegado a reconocer como el Corazón de Dios Padre. Dice: "Hijos Míos, recen por los valientes mártires del Amor Santo. Estas son las personas de este país que son desacreditadas incluso por la autoridad de la Iglesia, y las personas en países lejanos, como China, donde el simple hecho de ser cristiano representa una amenaza para su bienestar. La premisa del Amor Santo es solo una amenaza para quienes están lejos de Mí. Estos son los que no quieren conocerme ni reconocen Mis mandamientos. Ellos ven el Amor Santo como una amenaza a su estilo de vida."

"Para ellos, cada momento presente es un martirio, desconociendo siempre la forma en que van a ser combatidos. Recen pidiendo que perseveren con valentía en los caminos del Amor Santo."

Lean 1ª Corintios 13:1-7, 13




Aunque yo hablara todas las lenguas de los hombres y de los ángeles, si no tengo amor, soy como una campana que resuena o un platillo que retiñe. Aunque tuviera el don de la profecía y conociera todos los misterios y toda la ciencia, aunque tuviera toda la fe, una fe capaz de trasladar montañas, si no tengo amor, no soy nada. Aunque repartiera todos mis bienes para alimentar a los pobres y entregara mi cuerpo a las llamas, si no tengo amor, no me sirve para nada. El amor es paciente, es servicial; el amor no es envidioso, no hace alarde, no se envanece, no procede con bajeza, no busca su propio interés, no se irrita, no tiene en cuenta el mal recibido, no se alegra de la injusticia, sino que se regocija con la verdad. El amor todo lo disculpa, todo lo cree, todo lo espera, todo lo soporta. …En una palabra, ahora existen tres cosas: la fe, la esperanza y el amor, pero la más grande de todas es el amor.
RE: Latest messages are at Holy Love Ministries (www.holylove.org) and Ministerios del Amor Santo (www.amorsanto.com)