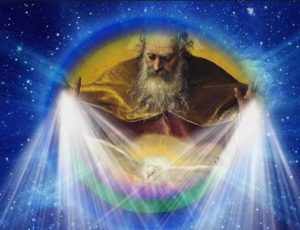 January 16, 2023
Once again, I (Maureen) see a Great Flame that I have come to know as the Heart of God the Father. He says: "The purpose of these Messages* is to reconcile mankind with his Creator. This is only possible if the difference between good and evil is recognized. Man cannot follow the path of compromise and remain safe from My Wrath. There is no half measure in obedience. At man's final judgment there is no bargaining. Learn now that what pleases Me is obedience to My Commandments.** Face every test between good and evil with this in mind. Then, choose. If you do not know My Commandments, you cannot choose according to My Will. Learn My Commandments and their every nuance."

Read 1 John 3:21-24+




Beloved, if our hearts do not condemn us, we have confidence before God; and we receive from him whatever we ask, because we keep his commandments and do what pleases him. And this is his commandment, that we should believe in the name of his Son Jesus Christ and love one another, just as he has commanded us. All who keep his commandments abide in him, and he in them. And by this we know that he abides in us, by the Spirit which he has given us.




** To LISTEN or READ the nuances & depth of the Ten Commandments given by God the Father from June 24 – July 3, 2021, please click here: http://www.holylove.org/ten




+ Scripture verses asked to be read by God the Father.

 

16 de Enero del 2023
Nuevamente veo una gran llama que he llegado a reconocer como el Corazón de Dios Padre. Dice: "El propósito de estos Mensajes es reconciliar a la humanidad con su Creador. Esto solo es posible si se reconoce la diferencia entre el bien y el mal. El hombre no puede seguir el sendero de las transigencias y permanecer a salvo de Mi ira. No hay medias tintas en la obediencia. No hay negociaciones en el juicio final del hombre. Aprendan ahora que lo que me agrada es la obediencia a Mis mandamientos. Enfrenten cada prueba entre bien y el mal teniendo esto en mente. Luego, decidan. Si ustedes no conocen Mis mandamientos, no pueden elegir conforme a Mi Voluntad. Aprendan Mis mandamientos y todos sus matices."

Lean 1ª Juan 3:21-24




Queridos míos, si nuestro corazón no nos hace ningún reproche, podemos acercarnos a Dios con plena confianza, y él nos concederá todo cuanto le pidamos, porque cumplimos sus mandamientos y hacemos lo que le agrada. Su mandamiento es este: que creamos en el nombre de su Hijo Jesucristo, y nos amemos los unos a los otros como él nos ordenó. El que cumple sus mandamientos permanece en Dios, y Dios permanece en él; y sabemos que él permanece en nosotros, por el Espíritu que nos ha dado.
RE: Latest messages are at Holy Love Ministries (www.holylove.org) and Ministerios del Amor Santo (www.amorsanto.com)
Download e-Book!                                                                            ¡Descargar E-Libro!
Happy Birthday Mom!