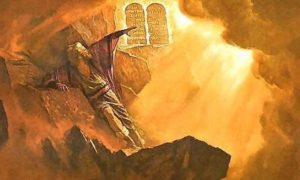 Once again, I (Maureen) see a Great Flame that I have come to know as the Heart of God the Father. He says: "I am Father of the Universe – Lord of all Creation. There is nothing that happens in the world which I have not seen from the beginning of time and for all eternity. I form each raindrop and create each ray of sun. I direct the path of right reason and change each season to My great pleasure."

"The purpose of this Mission* is to influence hearts towards love of Me and love of neighbor. Without this, the world races towards self-destruction. It is what is in hearts that determines the future. Holy Love transforms the world around it. As Holy Love is the embrace of My Commandments, I embrace those who choose to live in Holy Love."

"In the world, you are experiencing the season of vital decisions. So often these decisions are hidden in hearts until they are acted upon. Your hope is in converting hearts in Holy Love before decisions are made which are inspired by evil."

"Souls need to know there is a spiritual war going on in every heart. It is most important to win this war that souls recognize the difference between good and evil. To do this, evil must be recognized. You cannot fight the enemy unless you know who he is. In this spiritual warfare, your enemy is anything which opposes Holy Love. Carefully weigh every thought, word and action in this light."  (11/6/2017)

* The ecumenical Mission of Holy and Divine Love at Maranatha Spring and Shrine.

Read Ephesians 6:10-17+

Finally, be strong in the Lord and in the strength of His Might. Put on the whole armor of God, that you may be able to stand against the wiles of the devil. For we are not contending against flesh and blood, but against the principalities, against the powers, against the world rulers of this present darkness, against the spiritual hosts of wickedness in the heavenly places. Therefore take the whole armor of God, that you may be able to withstand in the evil day, and having done all, to stand. Stand therefore, having girded your loins with Truth, and having put on the breastplate of righteousness, and having shod your feet with the equipment of the gospel of peace; above all taking the shield of faith, with which you can quench all the flaming darts of the evil one. And take the helmet of salvation, and the sword of the Spirit, which is the Word of God.

+ Scripture verses asked to be read by God the Father.

Nuevamente veo una gran llama que he llegado a reconocer como el Corazón de Dios Padre. Dice: "Yo soy el Padre del universo; el Señor de toda la creación. Nada sucede en el mundo que Yo no haya visto desde el principio del tiempo y desde toda la eternidad. Yo formo cada gota de lluvia y creo cada rayo de sol. Yo dirijo el camino de la recta razón y cambio cada estación como mejor me place."

"El propósito de esta Misión es influenciar corazones hacia el amor por Mí y el amor por el prójimo. Sin esto, el mundo avanza hacia la autodestrucción. Lo que determina el futuro es lo que hay en los corazones. El Amor Santo transforma el mundo que lo rodea. Como el Amor Santo es el abrazo de Mis mandamientos, Yo abrazo a los que eligen vivir en Amor Santo."

"En el mundo, ustedes están experimentando la época de decisiones vitales. Con mucha frecuencia, estas decisiones están ocultas en los corazones hasta que se ponen en práctica. Su esperanza está en convertir corazones en el Amor Santo antes de que se tomen decisiones que estén inspiradas por el mal."

"Las almas necesitan saber que hay un combate espiritual en cada corazón. Lo más importante para ganar este combate es que las almas reconozcan la diferencia entre el bien y el mal. Para lograr esto, se tiene que identificar el mal. No pueden combatir al enemigo a menos que ustedes sepan quién es él. En este combate espiritual, su enemigo es cualquier cosa que se opone al Amor Santo. Analicen cuidadosamente cada pensamiento, palabra y acción desde esta perspectiva."

Lean Efesios 6:10-17
Por lo demás, fortalézcanse en el Señor con la fuerza de su poder. Revístanse con la armadura de Dios, para que puedan resistir las insidias del demonio. Porque nuestra lucha no es contra enemigos de carne y sangre, sino contra los Principados y Potestades, contra los Soberanos de este mundo de tinieblas, contra los espíritus del mal que habitan en el espacio. Por lo tanto, tomen la armadura de Dios, para que puedan resistir en el día malo y mantenerse firmes después de haber superado todos los obstáculos. Permanezcan de pie, ceñidos con el cinturón de la verdad y vistiendo la justicia como coraza. Calcen sus pies con el celo para propagar la Buena Noticia de la paz. Tengan siempre en la mano el escudo de la fe, con el que podrán apagar todas las flechas encendidas del Maligno. Tomen el casco de la salvación, y la espada del Espíritu, que es la Palabra de Dios.
RE: Latest messages are at Holy Love Ministries and Ministerios del Amor Santo