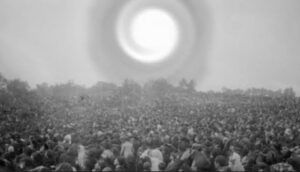 105th Anniversary of the Miracle of the Sun at Fatima, Portugal
October 13, 2022
The Blessed Virgin Mary says: "Praise be to Jesus."

"Dear children, decades ago, I was allowed by the Father* to appear to three shepherd children in Fatima** to encourage the world to pray the rosary*** for peace between nations, and between mankind and his God. Today, I come bearing the same Message. The rosary is the chord of reconciliation between man and God and between man and all nations. It is Satan who opposes man's grasp of this formula for peace."

"Dear little ones, never minimize the importance of your prayer efforts or of the rosary in particular. Change will come. It is up to you if it is change towards peaceful accord or change towards even greater conflict. I am always with you as your Heavenly Mother. Turn to Me when you find it difficult to pray. I pray with you when you pray the rosary."

"Pray that man does not escalate tensions between nations through threats of deadly force of catastrophic consequences."

Read Ephesians 4:1-3+
I therefore, a prisoner for the Lord, beg you to walk in a manner worthy of the calling to which you have been called, with all lowliness and meekness, with patience, forbearing one another in love, eager to maintain the unity of the Spirit in the bond of peace.

Read Philippians 4:4-7+

Rejoice in the Lord always; again I will say, Rejoice. Let all men know your forbearance. The Lord is at hand. Have no anxiety about anything, but in everything by prayer and supplication with thanksgiving let your requests be made known to God. And the peace of God, which passes all understanding, will keep your hearts and your minds in Christ Jesus.

+ Scripture verses asked to be read by God the Father.

 

13 de Octubre del 2022
CV Aniversario del Milagro del Sol en Fátima, Portugal
La Santísima Virgen María dice: "Alabado sea Jesús."

"Queridos hijos, décadas atrás, el Padre permitió que Yo me apareciera a tres Pastorcitos en Fátima para animar al mundo a rezar el Rosario por la paz entre las naciones y entre la humanidad y su Dios. Hoy vengo trayendo el mismo mensaje. El Rosario es el cordón de reconciliación entre el hombre y Dios y entre el hombre y todas las naciones. Es Satanás quien se opone a que el hombre tome esta fórmula para la paz."

"Queridos hijitos, nunca minimicen la importancia de sus esfuerzos de oración o del Rosario en particular. El cambio vendrá. Depende de ustedes si el cambio es en pro de un acuerdo pacífico o el cambio es para incluso un conflicto más grande. Yo siempre estoy con ustedes como su Madre Celestial. Recurran a Mí cuando se les haga difícil rezar. Yo rezo con ustedes cuando rezan el Rosario."

"Recen pidiendo que el hombre no intensifique la tensión que hay entre las naciones a través de amenazas de fuerzas letales de catastróficas consecuencias."

Lean Efesios 4:1-6
Yo, que estoy preso por el Señor, los exhorto a comportarse de una manera digna de la vocación que han recibido. Con mucha humildad, mansedumbre y paciencia, sopórtense mutuamente por amor. Traten de conservar la unidad del Espíritu, mediante el vínculo de la paz.

Filipenses 4:4-7
Alégrense siempre en el Señor. Vuelvo a insistir, alégrense. Que la bondad de ustedes sea conocida por todos los hombres. El Señor está cerca. No se angustien por nada, y en cualquier circunstancia, recurran a la oración y a la súplica, acompañadas de acción de gracias, para presentar sus peticiones a Dios. Entonces la paz de Dios, que supera todo lo que podemos pensar, tomará bajo su cuidado los corazones y los pensamientos de ustedes en Cristo Jesús.
RE: Latest messages are at Holy Love Ministries (www.holylove.org) and Ministerios del Amor Santo (www.amorsanto.com)