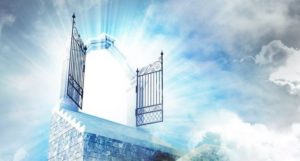 June 17, 2022
Once again, I (Maureen) see a Great Flame that I have come to know as the Heart of God the Father. He says: "Children, the world and all its allurements are passing. It is your status in Heaven you need to work on. Place love of reputation, physical appearance, wealth all behind you and choose love of Me above all else. That is the way to gain status in Heaven. Seek Heaven's assistance in achieving this. Build your day around this Heavenly goal. To do so, is your sanctification."

"Do not live to please self for that goal chains you to earth. Lift your spirit through self-abnegation, for this will bring you peace. Take pleasure in pleasing Me and pleasing others. This is a sign of pre-destination."

Read Colossians 3:1-4+




If then you have been raised with Christ, seek the things that are above, where Christ is, seated at the right hand of God. Set your minds on things that are above, not on things that are on earth. For you have died, and your life is hid with Christ in God. When Christ who is our life appears, then you also will appear with him in glory.




+ Scripture verses asked to be read by God the Father.

 

17 de junio de 2022
Una vez más, yo (Maureen) veo una Gran Llama que he llegado a conocer como el Corazón de Dios Padre. Él dice: "Hijos, el mundo y todos sus atractivos están pasando. Es vuestro estatus en el Cielo en lo que tenéis que trabajar. Poned el amor a la reputación, la apariencia física, la riqueza, todo detrás de vosotros y elegid el amor a Mí por encima de todo. Eso es la forma de ganar estatus en el Cielo. Busque la ayuda del Cielo para lograrlo. Construya su día alrededor de esta meta Celestial. Hacerlo es su santificación".

"No vivan para complacerse a sí mismos porque esa meta los encadena a la tierra. Levanten su espíritu a través de la abnegación, porque esto les traerá paz. Gusten en complacerme a Mí ya los demás. Esta es una señal de predestinación".

Lea Colosenses 3:1-4+




Si, pues, habéis resucitado con Cristo, buscad las cosas de arriba, donde está Cristo sentado a la diestra de Dios. Poned la mira en las cosas de arriba, no en las de la tierra. Porque habéis muerto, y vuestra vida está escondida con Cristo en Dios. Cuando Cristo, nuestra vida, se manifieste, entonces vosotros también seréis manifestados con él en gloria.




+ Versículos de las Escrituras que Dios Padre pidió que leyeran.
RE: Latest messages are at Holy Love Ministries (www.holylove.org) and Ministerios del Amor Santo (www.amorsanto.com)