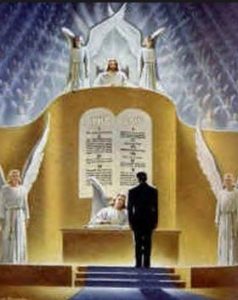 August 8, 2022
Once again, I (Maureen) see a Great Flame that I have come to know as the Heart of God the Father. He says: "I am the Beginning and the End – the Creator and the Destroyer – the Judge and the Jury. No one enters Paradise aside from My Approval. I see into each heart as the last breath is drawn. My Arms welcome or reject the soul. There is no negotiation. My Son* is the last Judge. He accepts My Final Judgment."

"As time races to an end, finish your race on earth in My friendship. Do not look for others' approval. People's opinions of you do not matter. I judge you apart from all others' opinions. I look at your devotion to My Commandments** and your efforts in obeying them."

"This Message brings peace to the obedient. Not so with those who lead compromised lives. Do not be scrupulous in your spirituality, but joyful."

Read 1 John 4:18+
There is no fear in love, but perfect love casts out fear. For fear has to do with punishment, and he who fears is not perfected in love.
+ Scripture verses asked to be read by God the Father.

 

8 de agosto de 2022
Una vez más, yo (Maureen) veo una Gran Llama que he llegado a conocer como el Corazón de Dios Padre. Él dice: "Yo soy el Principio y el Fin – el Creador y el Destructor – el Juez y el Jurado. Nadie entra al Paraíso aparte de Mi Aprobación. Veo dentro de cada corazón cuando se exhala el último aliento. Mis Brazos dan la bienvenida o rechazan el alma. No hay negociación. Mi Hijo* es el Juez último. Él acepta Mi Juicio Final"."A medida que el tiempo llega a su fin, termina tu carrera en la tierra en Mi amistad. No busques la aprobación de los demás. Las opiniones de la gente sobre ti no importan. Te juzgo aparte de las opiniones de todos los demás. Veo tu devoción a Mi Mandamientos** y tus esfuerzos por obedecerlos"."Este Mensaje trae paz a los obedientes. No así a los que llevan una vida comprometida. No seáis escrupulosos en vuestra espiritualidad, sino alegres".

Lea 1 Juan 4:18+
No hay temor en el amor, pero el amor perfecto echa fuera el temor. Porque el miedo tiene que ver con el castigo, y el que teme no se perfecciona en el amor.
+ Versículos de las Escrituras que Dios Padre pidió que leyeran.
RE: Latest messages are at Holy Love Ministries (www.holylove.org) and Ministerios del Amor Santo (www.amorsanto.com)