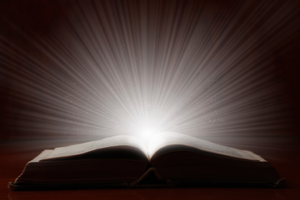 November 15, 2022
Once again, I (Maureen) see a Great Flame that I have come to know as the Heart of God the Father. He says: "Children, I invite you to regard these Messages as vitamins for your soul. A vitamin supplements the body with whatever it needs to grow in healthiness. So, it is, with these Messages from Heaven. Study each one as an aid to your growth in personal holiness. Each word is given as a means of assuring your salvation and leading your surefootedness along the path of righteousness. Treasure these Heavenly aids as this is the way I am leading you."

"I never abandon even the most needy of souls. In fact, the more needy the soul, the greater My Attentiveness towards it. These Messages are My Helping Hand reaching out to every soul with My Provision, My Courage, My Paternal Love. Turn your hearts over to loving acceptance of each loving word I send you. Every word comes clothed in My Will for you."

Read Ephesians 2:8-10+




For by grace you have been saved through faith; and this is not your own doing, it is the gift of God – not because of works, lest any man should boast. For we are his workmanship, created in Christ Jesus for good works, which God prepared beforehand, that we should walk in them.




+ Scripture verses asked to be read by God the Father.

 

15 de Noviembre del 2022
Nuevamente veo una gran llama que he llegado a reconocer como el Corazón de Dios Padre. Dice: "Hijos, los invito a considerar estos Mensajes como vitaminas para el alma. Una vitamina suplementa al cuerpo con aquello que se necesita para incrementar la salud. Así sucede con estos Mensajes del Cielo. Estudien cada uno como una ayuda para su crecimiento en la santidad personal. Cada palabra se da como un medio para asegurar su salvación y conducirlos con paso firme por el sendero de la rectitud. Atesoren estas ayudas celestiales porque este es el camino por el que Yo los guío."

"Yo nunca abandono ni siquiera a las almas más necesitadas. De hecho, mientras más necesitada el alma, mayor Mi atención hacia ella. Estos Mensajes son Mi Mano auxiliadora que llega a cada alma con Mi provisión, Mi valentía, Mi amor paternal. Vuelvan sus corazones a la aceptación afectuosa de cada palabra amorosa que Yo les envío. Cada palabra llega revestida de Mi Voluntad para ustedes."

Lean Efesios 2:8-10




Porque ustedes han sido salvados por su gracia, mediante la fe. Esto no proviene de ustedes, sino que es un don de Dios; y no es el resultado de las obras, para que nadie se gloríe. Nosotros somos creación suya: fuimos creados en Cristo Jesús, a fin de realizar aquellas buenas obras, que Dios preparó de antemano para que las practicáramos.
RE: Latest messages are at Holy Love Ministries (www.holylove.org) and Ministerios del Amor Santo (www.amorsanto.com)