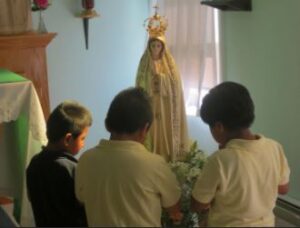 January 30, 2022
Once again, I (Maureen) see a Great Flame that I have come to know as the Heart of God the Father. He says: "Today, I would like you, My children, to realize the advantages of self-abandonment.* The soul who practices self-surrender** does not want everything his own way. He is willing to listen to the reasons people do what they do patiently, and without convicting them of wrongdoing, but accepting them as they are. He does not see everything in life as to how it affects him personally. He is able to lose himself in My Will and to accept My Will even when problems arise."

"Self-abandonment gives up control of every present moment. Such a soul is able to effectively trust*** Me in the face of difficulties and therefore is at peace. His crosses are mitigated by this self-surrender, as he is not bent on changing things his own way."

"This self-abandonment takes much prayer. It is not human nature to give up free will in favor of My Divine Will. This self-abandonment defeats Satan in his tracks. Pray for this grace. I will help you."

Read Psalm 9:9-10+
The LORD is a stronghold for the oppressed, a stronghold in times of trouble. And those who know your name put their trust in you, for you, O LORD, have not forsaken those who seek you.

+ Scripture verses asked to be read by God the Father.

 

30 de Enero del 2022
Nuevamente veo una gran llama que he llegado a reconocer como el Corazón de Dios Padre. Dice: "Hoy me gustaría que ustedes, hijos Míos, se den cuenta de los beneficios del autoabandono. El alma que practica la rendición no quiere que todo sea a su manera. Ella está dispuesta a escuchar con paciencia las razones por las que las personas hacen lo que hacen, sin condenarlas por actuar mal, sino aceptándolas como son. No ve todo en la vida en relación a cómo le afecta a ella de manera personal. Puede perderse en Mi Voluntad y aceptarla incluso cuando surgen problemas."

"El autoabandono cede el control de cada momento presente. Un alma así es capaz de confiar eficazmente en Mí ante las dificultades y, por lo tanto, está en paz. Sus cruces se ven mitigadas por esta rendición, pues ella no se empeña en cambiar las cosas a su manera."

"Este autoabandono requiere de mucha oración. No es de la naturaleza humana renunciar al libre albedrío en favor de Mi Divina Voluntad. Este autoabandono vence las sendas de Satanás. Recen pidiendo esta gracia. Yo los ayudaré."

Lean Salmo 9:10-11
El Señor es un baluarte para el oprimido, un baluarte en los momentos de peligro. ¡Confíen en ti los que veneran tu Nombre, porque tú no abandonas a los que te buscan!
RE: Latest messages are at Holy Love Ministries (www.holylove.org) and Ministerios del Amor Santo (www.amorsanto.com)