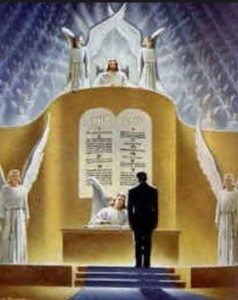 Once again, I (Maureen) see a Great Flame that I have come to know as the Heart of God the Father. He says: "The greatest treasure of My Heart is the soul who loves Me and tries to please Me by obedience to My Commandments. I urge all of My children to familiarize themselves with the Commandments. You cannot obey that which you do not know and understand."

"You will find My love in each of My Statutes. It is through My Commandments I desire to lead you into Heaven."

"The trials of the present day – terrorism, violence in schools, the disrespect for life in the womb – are all part of disregard for My Commandments. Allow Me dominion over every aspect of your lives. Make choices which reflect your obedience to My Commandments. This is what each soul will answer for. Everyone is answerable for his attitude towards My Dominion over his heart in every present moment." (2/26/2018)

Read Lamentations 3:46+

"All our enemies rail against us;"

+ Scripture verses asked to be read by God the Father.

Una vez más veo una gran llama que he llegado a reconocer como el Corazón de Dios Padre. Dice: "El tesoro más grande de Mi Corazón es el alma que me ama e intenta complacerme mediante la obediencia a Mis mandamientos. Exhorto a todos Mis hijos a familiarizarse con los mandamientos. No pueden obedecer lo que no conocen ni comprenden."

"Encontrarán Mi amor en cada uno de Mis estatutos. Es a través de Mis mandamientos como Yo quiero guiarlos al Cielo."

"Las tribulaciones de la actualidad –el terrorismo, la violencia en las escuelas, el poco aprecio por la vida en el vientre materno– son todas parte de la indiferencia hacia Mis mandamientos. Permítanme el dominio sobre cada aspecto de sus vidas. Tomen decisiones que reflejen su obediencia a Mis mandamientos. De eso rendirá cuentas cada alma. Cada uno tiene que dar cuentas de su actitud hacia Mi dominio sobre su corazón en cada momento presente."

Lean Lamentaciones 3:46
Abren sus fauces contra nosotros todos nuestros enemigos.
RE: Latest messages are at Holy Love Ministries and Ministerios del Amor Santo