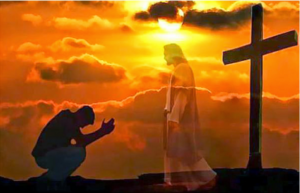 God The Father
February 15, 2022
Once again, I (Maureen) see a Great Flame that I have come to know as the Heart of God the Father. He says: "Children, when you settle down to pray, ask for the faith to believe in your prayers. This faith will make your prayers more powerful. Believe that your prayers are already answered or will be answered, as our wills unite."

"Do not be discouraged if I make you wait for your desired result. When you petition My Heart for any reason, trust that I hear you and will respond to your requests in the most perfect way. Sometimes, people ask Me for what is not best for them. They are discouraged when their crosses continue, for they do not see the merit in them. I alone see the overall picture and can determine what solution fits in with the salvation of many. Learn to separate your own will from My Divine Will. Then, pray that these two be made one in your heart."

Read Philippians 4:4-7+




Rejoice in the Lord always; again I will say, Rejoice. Let all men know your forbearance. The Lord is at hand. Have no anxiety about anything, but in everything by prayer and supplication with thanksgiving let your requests be made known to God. And the peace of God, which passes all understanding, will keep your hearts and your minds in Christ Jesus.

+ Scripture verses asked to be read by God the Father.

 

15 de Febrero del 2022
Nuevamente veo una gran llama que he llegado a reconocer como el Corazón de Dios Padre. Dice: "Hijos, cuando se dispongan a rezar, pidan fe para creer en sus oraciones. Esta fe hará que sus oraciones sean más poderosas. Crean que sus oraciones ya han sido o van a ser contestadas a medida que se unan nuestras voluntades."

"No se desanimen si los hago esperar por el resultado deseado. Cuando rueguen a Mi Corazón por algún motivo, confíen en que Yo los escucho y contestaré a sus peticiones de la manera más perfecta. Algunas veces, las personas me piden lo que no es mejor para ellas; se desalientan cuando sus cruces persisten, pues no ven el mérito en ellas. Solo Yo veo el panorama completo y puedo determinar la solución que conviene para la salvación de muchos. Aprendan a separar su propia voluntad de la Divina Voluntad. Luego, recen pidiendo que ambas se hagan una en sus corazones."

Lean Filipenses 4:4-7

Alégrense siempre en el Señor. Vuelvo a insistir, alégrense. Que la bondad de ustedes sea conocida por todos los hombres. El Señor está cerca. No se angustien por nada, y en cualquier circunstancia, recurran a la oración y a la súplica, acompañadas de acción de gracias, para presentar sus peticiones a Dios. Entonces la paz de Dios, que supera todo lo que podemos pensar, tomará bajo su cuidado los corazones y los pensamientos de ustedes en Cristo Jesús.
RE: Latest messages are at Holy Love Ministries (www.holylove.org) and Ministerios del Amor Santo (www.amorsanto.com)