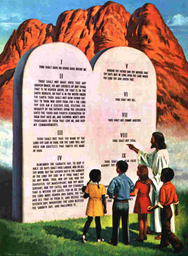 November 8, 2022
Once again, I (Maureen) see a Great Flame that I have come to know as the Heart of God the Father. He says: "Children, you cannot attain personal holiness unless you obey My Commandments.* These are the building blocks you must use towards your personal holiness. No one enters Heaven unless he is obedient to all of My Commandments. There is no negotiation at your moment of judgment. You cannot compromise your way into Heaven.""This being the case, it is important to scrutinize your own lives to be certain of your unerring obedience to the Commandments. Each soul, at some point in time, has disobeyed one or more of the Commandments. This is part of being human. Be careful not to form patterns of behavior contrary to these Commandments. Do not excuse your disobedience because you know others who are also disobedient. You are to be judged as an individual – not part of any group or in association with anyone. Be responsible for your own behaviors and do not compare your walk in holiness to anyone else. You will be judged on your own merits."

Read James 1:22-25+




But be doers of the word, and not hearers only, deceiving yourselves. For if any one is a hearer of the word and not a doer, he is like a man who observes his natural face in a mirror; for he observes himself and goes away and at once forgets what he was like. But he who looks into the perfect law, the law of liberty, and perseveres, being no hearer that forgets but a doer that acts, he shall be blessed in his doing.




+ Scripture verses asked to be read by God the Father.

 

8 de Noviembre del 2022
Nuevamente veo una gran llama que he llegado a reconocer como el Corazón de Dios Padre. Dice: "Hijos, ustedes no pueden alcanzar la santidad personal si no obedecen Mis mandamientos. Estos son los bloques de construcción que tienen que utilizar para su santidad personal. Nadie entra al Cielo si no obedece todos Mis mandamientos. En el momento de su juicio, no hay negociaciones. No pueden comprometer su camino al Cielo.""Siendo este el caso, es importante escudriñar sus vidas para estar seguros de su infalible obediencia a los mandamientos. Cada alma, en algún momento, ha desobedecido uno o más de los mandamientos. Esto es parte de ser humanos. Tengan cuidado de no formar patrones de comportamiento contrarios a estos mandamientos. No justifiquen su desobediencia porque hay otros que también son desobedientes. Ustedes van a ser juzgados de forma individual; no como parte de algún grupo o asociados con alguien. Sean responsables de su propio comportamiento y no comparen su camino en la santidad con el de nadie más. Ustedes serán juzgados en base a sus propios méritos."

Lean Santiago 1:22-25




Pongan en práctica la Palabra y no se contenten sólo con oírla, de manera que se engañen a ustedes mismos. El que oye la Palabra y no la practica, se parece a un hombre que se mira en el espejo, pero en seguida se va y se olvida de cómo es. En cambio, el que considera atentamente la Ley perfecta, que nos hace libres, y se aficiona a ella, no como un oyente distraído, sino como un verdadero cumplidor de la Ley, será feliz al practicarla.
RE: Latest messages are at Holy Love Ministries (www.holylove.org) and Ministerios del Amor Santo (www.amorsanto.com)