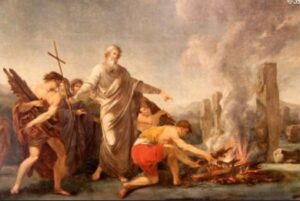 Feast of St. Patrick
March 17, 2022
St. Patrick comes. He is holding a long staff like St. Joseph does when he visits. He says: "Praise be to Jesus."

"Today, I come to you to accentuate the importance of the conversion of one soul. It Is true I converted with the help of God many, many souls in ancient Ireland. This same opportunity does not avail itself to but a few chosen to do so. However, I would have done all I did for the conversion of pagan Ireland if it had been for only one soul."

"As it was, a whole heathen country benefited by my efforts to cooperate with God's Plan. Always keep your heart open and ready to follow God's lead as you never know the plans He has for you."

Read Ephesians 2:8-10+
For by grace you have been saved through faith; and this is not your own doing, it is the gift of God – not because of works, lest any man should boast. For we are his workmanship, created in Christ Jesus for good works, which God prepared beforehand, that we should walk in them.
+ Scripture verses asked to be read by St. Patrick.

 

17 de Marzo del 2022
Fiesta de san Patricio
Llega san Patricio. Trae un cayado igual que cuando viene San José. Dice: "Alabado sea Jesús."

"Hoy vengo para enfatizar la importancia de la conversión de un alma. Es cierto que, con la ayuda de Dios, yo convertí a muchísimas almas en la Irlanda antigua. Esta misma oportunidad no la aprovechan sino unos cuantos elegidos. Sin embargo, yo haría todo lo que hice por la conversión de la Irlanda pagana si hubiera sido tan solo por un alma."

"La realidad fue que todo un país pagano se benefició con mis esfuerzos por cooperar con el plan de Dios. Mantengan siempre su corazón abierto y preparado para seguir la dirección de Dios porque nunca saben los planes que Él tiene para ustedes."

Lean Efesios 2:8-10
Porque ustedes han sido salvados por su gracia, mediante la fe. Esto no proviene de ustedes, sino que es un don de Dios; y no es el resultado de las obras, para que nadie se gloríe. Nosotros somos creación suya: fuimos creados en Cristo Jesús, a fin de realizar aquellas buenas obras, que Dios preparó de antemano para que las practicáramos.
RE: Latest messages are at Holy Love Ministries (www.holylove.org) and Ministerios del Amor Santo (www.amorsanto.com)