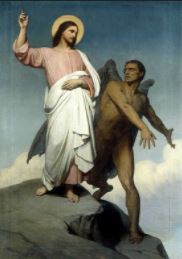 March 16, 2022
Once again, I (Maureen) see a Great Flame that I have come to know as the Heart of God the Father. He says: "Children, when you are at prayer and assailed by many distractions, please recognize Satan's fear of your prayers. He does not come as himself visibly, but as many thoughts and outside interruptions that interfere with fervent prayer. When this happens, calmly bless yourself and return to prayer."

"It is through prayer, Satan's tactics are revealed and destroyed. The Evil One uses unwitting people and situations to ensnare your concentration at prayer time. When you learn to recognize him, half your battle is won. Do not allow anyone or anything to keep you away from prayer. Pay attention to what is disturbing you and dismiss the unnecessary."

Read Romans 7:21-25+




So I find it to be a law that when I want to do right, evil lies close at hand. For I delight in the law of God, in my inmost self, but I see in my members another law at war with the law of my mind and making me captive to the law of sin which dwells in my members. Wretched man that I am! Who will deliver me from this body of death? Thanks be to God through Jesus Christ our Lord! So then, I of myself serve the law of God with my mind, but with my flesh I serve the law of sin.




+ Scripture verses asked to be read by God the Father.

 

16 de Marzo del 2022
Nuevamente veo una gran llama que he llegado a reconocer como el Corazón de Dios Padre. Dice: "Hijos, cuando estén rezando y los asalten muchas distracciones, les pido que reconozcan el miedo que tiene Satanás de sus oraciones. Él no se presenta de forma visible, sino como muchos pensamientos e interrupciones externas que interfieren con la oración ferviente. Cuando esto suceda, persígnense tranquilamente y regresen a la oración."

"A través de la oración se revelan y se destruyen las tácticas de Satanás. El maligno utiliza personas y situaciones involuntarias para atrapar su concentración al momento de rezar. Cuando aprendan a reconocerlo, la mitad de la batalla está ganada. No dejen que nadie ni nada los aleje de la oración. Pongan atención a lo que los inquieta y desechen lo innecesario."

Lean Romanos 7:21-25




De esa manera, vengo a descubrir esta ley: queriendo hacer el bien, se me presenta el mal. Porque de acuerdo con el hombre interior, me complazco en la Ley de Dios, pero observo que hay en mis miembros otra ley que lucha contra la ley de mi razón y me ata a la ley del pecado que está en mis miembros. ¡Ay de mí! ¿Quién podrá librarme de este cuerpo que me lleva a la muerte? ¡Gracias a Dios, por Jesucristo, nuestro Señor! En una palabra, con mi razón sirvo a la Ley de Dios, pero con mi carne sirvo a la ley del pecado.
RE: Latest messages are at Holy Love Ministries (www.holylove.org) and Ministerios del Amor Santo (www.amorsanto.com)