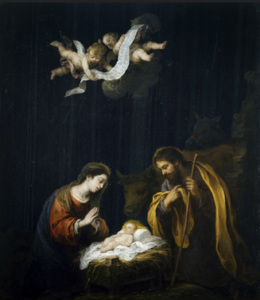 December 22, 2022
Once again, I (Maureen) see a Great Flame that I have come to know as the Heart of God the Father. He says: "Children, amidst all the preparations you are taking care of for the holidays, make certain that your hearts are prepared to celebrate and commemorate the Birth of My Son, Jesus. Be grateful for Mary's 'Yes' in Her role as the Mother of God. Be thankful for the patience of Mary and Joseph as they met rejection upon their arrival in Bethlehem. Be thankful as they willingly accepted a humble space in the stable. It is their acceptance of My Divine Will which brings you the celebration of this holy holiday. Without their 'Yes' there would be no reason to celebrate."

"Throughout their lives both Mary and Joseph accepted My Will for them. This is what I Call each soul to do, beginning with and ending with obedience to My Commandments."*

Read Ephesians 5:15-17 +




Look carefully then how you walk, not as unwise men but as wise, making the most of the time, because the days are evil. Therefore do not be foolish, but understand what the will of the Lord is.

Read 1 John 3:21-22 +
Beloved, if our hearts do not condemn us, we have confidence before God; and we receive from him whatever we ask, because we keep his commandments and do what pleases him.
+ Scripture verse(s) asked to be read by God the Father.

 

22 de diciembre de 2022




Una vez más, yo (Maureen) veo una Gran Llama que he llegado a conocer como el Corazón de Dios Padre. Él dice: "Hijos, en medio de todos los preparativos que están haciendo para las fiestas, asegúrense de que sus corazones estén preparados para celebrar y conmemorar el Nacimiento de Mi Hijo, Jesús. Estar agradecidos por el 'Sí' de María en Su papel como la Madre de Dios. Agradece la paciencia de María y José al encontrar el rechazo a su llegada a Belén. Agradece que aceptaron voluntariamente un humilde espacio en el establo. Es su aceptación de Mi Divina Voluntad la que te trae la celebración de esta fiesta sagrada. Sin su 'Sí' no habría razón para celebrar".

"A lo largo de sus vidas, tanto María como José aceptaron Mi Voluntad para ellos. Esto es lo que Yo Llamo a hacer a cada alma, comenzando y terminando con la obediencia a Mis Mandamientos".*

Lea Efesios 5:15-17 +




Mirad pues bien cómo andáis, no como necios sino como sabios, aprovechando bien el tiempo, porque los días son malos. Por tanto, no seáis insensatos, sino entendidos de cuál sea la voluntad del Señor.
RE: Latest messages are at Holy Love Ministries (www.holylove.org) and Ministerios del Amor Santo (www.amorsanto.com)