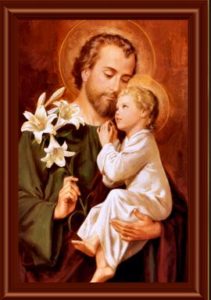 Feast of St. Joseph the Worker
May 1, 2022
Once again, I (Maureen) see a Great Flame that I have come to know as the Heart of God the Father. He says: "Each day and in every present moment, I desire to be part of your every decision in thought, word and deed. This is how you will be held accountable at your moment of judgment. Have you loved Me enough to want to please Me and to please others, or has your whole life on earth been about pleasing yourself?"

"How much I love and how attentive I am to the prayers of the one who loves Me deep in his heart. The soul can only appreciate this once he is in Heaven. You can glimpse Heaven through an effort to please Me."

"Surrender to My Call to you to come closer to Me. Live in this Truth."

Read 1 John 3:21-22+
Beloved, if our hearts do not condemn us, we have confidence before God; and we receive from him whatever we ask, because we keep his commandments and do what pleases him.
+ Scripture verses asked to be read by God the Father.

 

1º de Mayo del 2022
Nuevamente veo una gran llama que he llegado a reconocer como el Corazón de Dios Padre. Dice: "Cada día y en todo momento presente, Yo tengo el deseo de formar parte de cada una de sus decisiones de pensamiento, palabra y obra. Así es como rendirán cuentas en el momento del juicio. ¿Me han amado lo suficiente como para querer complacerme a Mí y a los demás, o su vida entera en la tierra ha sido para agradarse a sí mismos?"

"Cuánto amo y qué atento estoy a las oraciones de los que me aman desde lo profundo del corazón. El alma solo podrá apreciar esto una vez que esté en el Cielo. Pueden vislumbrar el Cielo a través de un esfuerzo por complacerme a Mí."

"Ríndanse a Mi llamado de acercarse más a Mí. Vivan en esta verdad."

Lean 1ª Juan 3:21-22
Queridos míos, si nuestro corazón no nos hace ningún reproche, podemos acercarnos a Dios con plena confianza, y él nos concederá todo cuanto le pidamos, porque cumplimos sus mandamientos y hacemos lo que le agrada.
RE: Latest messages are at Holy Love Ministries (www.holylove.org) and Ministerios del Amor Santo (www.amorsanto.com)