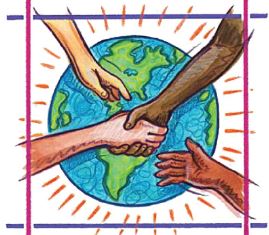 July 3, 2022

Once again, I (Maureen) see a Great Flame that I have come to know as the Heart of God the Father. He says: "So often, people cannot get along with each other peacefully, as they look only at their differences. I am inviting you to contemplate your common traits. Bring to mind how I created each of you from dust. Each of you, as My Creation, is called to love Me above all else and neighbor as self. You have been created to earn your place with Me in Heaven. All else is of no account. Spend your life on earth trying to please Me. Entrust every problem, every situation to My Provision."

"It is your deep-seated love for Me that brings you peace. This Holy Love* is the foundation of your salvation. It is the Love which supports you in difficulties and directs you around all sin. Be at peace and realize that each of you is given the same purpose in life – to earn salvation through your response to the Holy Spirit."

Read Titus 3:3-7 +
For we ourselves were once foolish, disobedient, led astray, slaves to various passions and pleasures, passing our days in malice and envy, hated by men and hating one another; but when the goodness and loving kindness of God our Savior appeared, he saved us, not because of deeds done by us in righteousness, but in virtue of his own mercy, by the washing of regeneration and renewal in the Holy Spirit, which he poured out upon us richly through Jesus Christ our Savior, so that we might be justified by his grace and become heirs in hope of eternal life.

+ Scripture verse(s) asked to be read by God the Father.

 

3 de Julio del 2022

Nuevamente veo una gran llama que he llegado a reconocer como el Corazón de Dios Padre. Dice: "Con mucha frecuencia, las personas no pueden llevarse bien pacíficamente porque se fijan solamente en sus diferencias. Yo los invito a contemplar sus características comunes. Recuerden cómo Yo creé a cada uno de ustedes del polvo. Cada uno de ustedes, como creación Mía, está llamado a amarme a Mí sobre todas las cosas y al prójimo como a sí mismos. Ustedes han sido creados para ganar su lugar Conmigo en el Cielo. Todo lo demás no cuenta. Pasen su vida en la tierra tratando de agradarme. Confíen a Mi provisión cada problema, cada situación."

"Lo que les da paz es su profundo amor por Mí. Este Amor Santo es el cimiento de su salvación. El amor es lo que los apoya en las dificultades y lo que los dirige fuera de todo pecado. Estén en paz y dense cuenta de que cada uno recibe el mismo propósito en la vida: ganar la salvación a través de su respuesta al Espíritu Santo."

Lean Tito 3:3-7
Porque también nosotros antes éramos insensatos, rebeldes, extraviados, esclavos de los malos deseos y de toda clase de placeres, y vivíamos en la maldad y la envidia, siendo objeto de odio y odiándonos los unos a los otros. Pero cuando se manifestó la bondad de Dios, nuestro Salvador, y su amor a los hombres, no por las obras de justicia que habíamos realizado, sino solamente por su misericordia, él nos salvó, haciéndonos renacer por el bautismo y renovándonos por el Espíritu Santo. Y derramó abundantemente ese Espíritu sobre nosotros por medio de Jesucristo, nuestro Salvador, a fin de que, justificados por su gracia, seamos en esperanza herederos de la Vida eterna.
RE: Latest messages are at Holy Love Ministries (www.holylove.org) and Ministerios del Amor Santo (www.amorsanto.com)