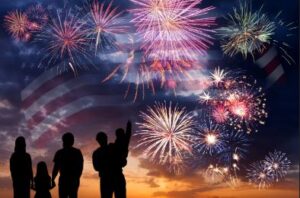 Independence Day
July 4, 2022
Once again, I (Maureen) see a Great Flame that I have come to know as the Heart of God the Father. He says: "Dear children, as your country* celebrates its freedom today, each one of you should celebrate the freedom you have to choose your salvation. This is the choice which My Son** earned for you on the Cross. Make obvious the choice you personally have made towards your own salvation. Realize that obedience to My Commandments*** is really a choice of your free will towards your salvation. No one reaches Heaven independent of obedience to My Commandments. Let this independent choice be the freedom you celebrate today. Celebrate this Truth."

Read 1 John 3:18-22+




Little children, let us not love in word or speech but in deed and in truth. By this we shall know that we are of the truth, and reassure our hearts before him whenever our hearts condemn us; for God is greater than our hearts, and he knows everything. Beloved, if our hearts do not condemn us, we have confidence before God; and we receive from him whatever we ask, because we keep his commandments and do what pleases him.

+ Scripture verses asked to be read by God the Father.

 

4 de Julio del 2022


Nuevamente veo una gran llama que he llegado a reconocer como el Corazón de Dios Padre. Dice: "Queridos hijos, conforme su País celebra su independencia el día de hoy, cada uno de ustedes debería celebrar la libertad que tienen para elegir su salvación. Esta es la elección que Mi Hijo ganó para ustedes en la Cruz. Hagan patente la decisión que han tomado de forma personal en pro de su propia salvación. Dense cuenta de que la obediencia a Mis mandamientos es realmente una decisión de su libre albedrío en pro de su salvación. Nadie llega al Cielo alejado de la obediencia a Mis mandamientos. Que esta decisión independiente sea la libertad que hoy celebren. Celebren esta verdad."

Lean 1ª Juan 3:18-22




Hijitos míos, no amemos con la lengua y de palabra, sino con obras y de verdad. En esto conoceremos que somos de la verdad, y estaremos tranquilos delante de Dios aunque nuestra conciencia nos reproche algo, porque Dios es más grande que nuestra conciencia y conoce todas las cosas. Queridos míos, si nuestro corazón no nos hace ningún reproche, podemos acercarnos a Dios con plena confianza, y él nos concederá todo cuanto le pidamos, porque cumplimos sus mandamientos y hacemos lo que le agrada.
RE: Latest messages are at Holy Love Ministries (www.holylove.org) and Ministerios del Amor Santo (www.amorsanto.com)