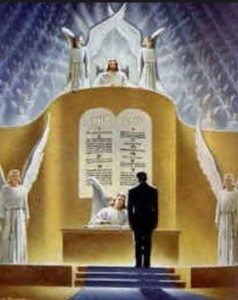 Once again, I (Maureen) see the Great Flame that I have come to know as the Heart of God the Father. He says: "I am the Father of all Ages. No one can hide from Me. No one can, by disbelief, change the treasure of My Leadership. I design every present moment for every soul. There is no time or space in eternity which governs My actions."

"If you clearly understood this – Man of Earth – you would be more responsible to My Commandments. You would more clearly understand your responsibility towards obedience to My Commandments. As it is, most today, seek only the fulfillment of their own will. They try to make My Will fit into their earthly will, rather than making their human will comply with the divine."

"This is what separates creature from Creator. This is what calls upon My Wrath. Try to please Me and all you need will be added unto you. Make Me first and I will not ignore your petitions." (5/22/2018)

Read Deuteronomy 5:6-7+
"'I am the Lord your God, who brought you out of the land of Egypt, out of the house of bondage.
"'You shall have no other gods before me.

Read Psalm 9:9-10+

Then The Lord is a stronghold for the oppressed,
a stronghold in times of trouble.
And those who know your name put their trust in you,
for you, O Lord, have not forsaken those who seek you.

+ Scripture verses asked to be read by God the Father. 

Nuevamente veo una gran llama que he llegado a reconocer como el Corazón de Dios Padre. Dice: "Yo soy el Padre de todas las eras. Nadie puede esconderse de Mí. Nadie puede, por incredulidad, cambiar el tesoro de Mi liderazgo. Yo diseño cada momento presente para cada alma. En la eternidad no existe tiempo ni espacio que gobierne Mis acciones."

"Si entendieras claramente esto, hombre de la Tierra, serías más responsable ante Mis mandamientos. Comprenderías más claramente tu responsabilidad en cuanto a la obediencia de Mis mandamientos. La realidad es que, en la actualidad, la mayoría solamente busca cumplir su propia voluntad. Intentan que Mi Voluntad se ajuste a su voluntad terrenal, en vez de hacer que su voluntad humana acate la divina."

"Eso es lo que separa al hombre de su Creador. Eso es lo que invoca Mi Ira. Intenten complacerme a Mí, y todo lo que necesitan se les dará por añadidura. Pónganme a Mí en primer lugar, y Yo no ignoraré sus peticiones."

Lean Deuteronomio 5:6-7
Yo soy el Señor, tu Dios, que te hice salir de Egipto, de un lugar de esclavitud. No tendrás otros dioses delante de mí.

Salmo 9:10-11
El Señor es un baluarte para el oprimido, un baluarte en los momentos de peligro. ¡Confíen en ti los que veneran tu Nombre, porque tú no abandonas a los que te buscan!
RE: Latest messages are at Holy Love Ministries and Ministerios del Amor Santo