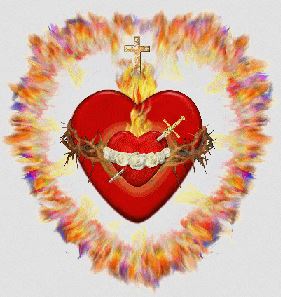 January 14, 2021
Once again, I (Maureen) see a Great Flame that I have come to know as the Heart of God the Father. He says: "Children, once again, I point out to you that it is free- will choices that decide the future and that have decided the past. If your will is formed in and around Holy Love, we will work together in every present moment. Most often however, free-will choices are governed by a disordered self-love. It is then, your choices do not match My Will. It is then, I permit the consequences of free will to result in negative solutions."

"If you pray, you will understand how and why certain things have and will happen. I, your Lord, do not interfere in free-will choices. My Will for man is that his choices embrace Holy Love – for this is the New Jerusalem on earth. It is during these times, man's free-will choices have carried him far away from My Will and many innocent souls will suffer the consequences. These are the days of man distancing himself from Me without regard for pleasing Me. I must stand back now and allow certain things to take place as a result of mankind's apathy towards Me. I am always waiting with open arms any soul's return to Me."

Read Ephesians 5:15-17+

Look carefully then how you walk, not as unwise men but as wise, making the most of the time, because the days are evil. Therefore do not be foolish, but understand what the will of the Lord is.

+ Scripture verses asked to be read by God the Father.

 

14 de Enero del 2021
Nuevamente veo una gran llama que he llegado a reconocer como el Corazón de Dios Padre. Dice: "Hijos, una vez más les señalo que las decisiones del libre albedrío es lo que decide el futuro y lo que ha decidido el pasado. Si su voluntad se forma en y alrededor del Amor Santo, trabajaremos juntos en cada momento presente. Sin embargo, con mucha frecuencia las decisiones del libre albedrío son gobernadas por el amor propio desordenado. Es entonces cuando sus decisiones no concuerdan con Mi Voluntad. Es entonces cuando Yo permito que las consecuencias del libre albedrío resulten en soluciones negativas."

"Si ustedes rezan, comprenderán cómo y por qué han pasado y van a pasar ciertas cosas. Yo, su Señor, no interfiero con las decisiones del libre albedrío. Mi Voluntad para el hombre es que sus decisiones abracen el Amor Santo, porque el Amor Santo es la Nueva Jerusalén en la tierra. Durante estos tiempos, las decisiones del libre albedrío del hombre lo han alejado mucho de Mi Voluntad, y muchas almas inocentes van a sufrir las consecuencias. Estos son tiempos en los que el hombre se aleja de Mí sin preocuparse por agradarme. Yo debo retroceder ahora y permitir que ciertas cosas sucedan como resultado de la apatía que la humanidad tiene hacia Mí. Yo siempre estoy esperando con brazos abiertos a que un alma regrese a Mí."

Lean Efesios 5:15-17




Cuiden mucho su conducta y no procedan como necios, sino como personas sensatas que saben aprovechar bien el momento presente, porque estos tiempos son malos. No sean irresponsables, sino traten de saber cuál es la voluntad del Señor.
RE: Latest messages are at Holy Love Ministries and Ministerios del Amor Santo