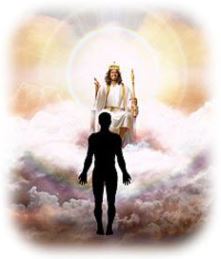 February 19, 2022
Once again, I (Maureen) see a Great Flame that I have come to know as the Heart of God the Father. He says: "Children, the beginning of a new age is at hand. It is not an age of distancing oneself from God, but one of understanding man's position before Me. Many events are now beginning to occur which will bring some much closer to Me and many far distant from Me. These things began with the last Presidential election here in your country.* Tried-and-true was abandoned and unpredictable gained ground. The news media became a pawn in Satan's hands. Mankind, while being encouraged to think for himself, is more and more controlled by illicit powers that be. Obedience to My Commandments** has become old-fashioned – out of step with advanced thinking."

"But My Laws stand as the judge of every human behavior – above and beyond any contrived behaviors presumed righteous by popular opinion. Nothing will change at mankind's judgment to please errant souls. My Commandments will always remain the standard of righteous judgment. Have ears to listen – not false discernment."

Read 1 John 3:19-24+




By this we shall know that we are of the truth, and reassure our hearts before him whenever our hearts condemn us; for God is greater than our hearts, and he knows everything. Beloved, if our hearts do not condemn us, we have confidence before God; and we receive from him whatever we ask, because we keep his commandments and do what pleases him. And this is his commandment, that we should believe in the name of his Son Jesus Christ and love one another, just as he has commanded us. All who keep his commandments abide in him, and he in them. And by this we know that he abides in us, by the Spirit which he has given us.




+ Scripture verses asked to be read by God the Father.

 

19 de Febrero del 2022
Nuevamente veo una gran llama que he llegado a reconocer como el Corazón de Dios Padre. Dice: "Hijos, el inicio de una nueva era está cerca. No es un tiempo para distanciarse de Dios, sino para comprender el lugar que tiene el hombre ante Mí. Ahora están sobreviniendo acontecimientos que harán que algunos se acerquen más a Mí y que muchos estén muy distantes de Mí. Estas cosas iniciaron con la pasada elección presidencial aquí en su País (EE.UU.). Renunciaron a lo probado y verdadero, y lo impredecible ganó terreno. Los medios de comunicación se volvieron un instrumento en manos de Satanás. La humanidad, aunque es alentada a pensar por sí misma, cada vez está más controlada por poderes ilícitos. La obediencia a Mis mandamientos se ha vuelto algo anticuado y fuera de sintonía con el pensamiento avanzado."

"Pero Mis leyes están como juez de toda conducta humana; por encima y más allá de cualquier conducta fingida que la opinión popular considere recta. Nada cambiará en el juicio de la humanidad para complacer a las almas descarriadas. Mis mandamientos seguirán siendo siempre la norma del justo juicio. No tengan falso discernimiento; tengan oídos para oír."

Lean 1ª Juan 3:19-24




En esto conoceremos que somos de la verdad, y estaremos tranquilos delante de Dios aunque nuestra conciencia nos reproche algo, porque Dios es más grande que nuestra conciencia y conoce todas las cosas. Queridos míos, si nuestro corazón no nos hace ningún reproche, podemos acercarnos a Dios con plena confianza, y él nos concederá todo cuanto le pidamos, porque cumplimos sus mandamientos y hacemos lo que le agrada. Su mandamiento es este: que creamos en el nombre de su Hijo Jesucristo, y nos amemos los unos a los otros como él nos ordenó. El que cumple sus mandamientos permanece en Dios, y Dios permanece en él; y sabemos que él permanece en nosotros, por el Espíritu que nos ha dado.
RE: Latest messages are at Holy Love Ministries (www.holylove.org) and Ministerios del Amor Santo (www.amorsanto.com)