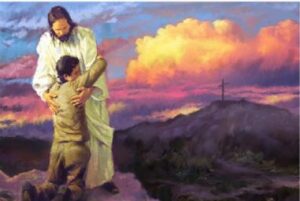 April 12, 2022
Once again, I (Maureen) see a Great Flame that I have come to know as the Heart of God the Father. He says: "Children, prepare your hearts for My Son's coming to you on Easter. Free yourselves of all worldliness, unforgiveness and anger. Let Easter be as a celebration of your running to the tomb on Easter morning and finding Jesus risen. At that moment, nothing else mattered to those who discovered My Truth."

"I wish to join you as you celebrate this greatest of Feasts. Let us be together all day by joining spiritually and forgetting all problems. You can do this with My help. My assistance is always at your disposal even during your greatest crisis. Find Me by longing to be with Me."

Read Matthew 28:1-7+




Now after the sabbath, toward the dawn of the first day of the week, Mary Mag'dalene and the other Mary went to see the tomb. And behold, there was a great earthquake; for an angel of the Lord descended from heaven and came and rolled back the stone, and sat upon it. His appearance was like lightning, and his clothing white as snow. And for fear of him the guards trembled and became like dead men. But the angel said to the women, "Do not be afraid; for I know that you seek Jesus who was crucified. He is not here; for he has risen, as he said. Come, see the place where he lay. Then go quickly and tell his disciples that he has risen from the dead, and behold, he is going before you to Galilee; there you will see him. Behold, I have told you."

Read Mark 16:1-8+
And when the sabbath was past, Mary Mag'dalene, and Mary the mother of James, and Salo'me, bought spices, so that they might go and anoint him. And very early on the first day of the week they went to the tomb when the sun had risen. And they were saying to one another, "Who will roll away the stone for us from the door of the tomb?" And looking up, they saw that the stone was rolled back; for it was very large. And entering the tomb, they saw a young man sitting on the right side, dressed in a white robe; and they were amazed. And he said to them, "Do not be amazed; you seek Jesus of Nazareth, who was crucified. He has risen, he is not here; see the place where they laid him. But go, tell his disciples and Peter that he is going before you to Galilee; there you will see him, as he told you." And they went out and fled from the tomb; for trembling and astonishment had come upon them; and they said nothing to any one, for they were afraid.

Read Luke 24:1-9+
But on the first day of the week, at early dawn, they went to the tomb, taking the spices which they had prepared. And they found the stone rolled away from the tomb, but when they went in they did not find the body. While they were perplexed about this, behold, two men stood by them in dazzling apparel; and as they were frightened and bowed their faces to the ground, the men said to them, "Why do you seek the living among the dead? He is not here, but has risen. Remember how he told you, while he was still in Galilee, that the Son of man must be delivered into the hands of sinful men, and be crucified, and on the third day rise." And they remembered his words, and returning from the tomb they told all this to the Eleven and to all the rest.

Read John 20:11-16+
But Mary stood weeping outside the tomb, and as she wept she stooped to look into the tomb; and she saw two angels in white, sitting where the body of Jesus had lain, one at the head and one at the feet. They said to her, "Woman, why are you weeping?" She said to them, "Because they have taken away my Lord, and I do not know where they have laid him." Saying this, she turned round and saw Jesus standing, but she did not know that it was Jesus. Jesus said to her, "Woman, why are you weeping? Whom do you seek?" Supposing him to be the gardener, she said to him, "Sir, if you have carried him away, tell me where you have laid him, and I will take him away." Jesus said to her, "Mary." She turned and said to him in Hebrew, "Rab-bo'ni!" (which means Teacher).
+ Scripture verses asked to be read by God the Father.

 

12 de Abril del 2022
Nuevamente veo una gran llama que he llegado a reconocer como el Corazón de Dios Padre. Dice: "Hijos, preparen sus corazones para la llegada de Mi Hijo a ustedes en Pascua. Libérense de todo lo mundano, de la falta de perdón y de toda ira. Que la Pascua sea una celebración de su carrera a la tumba en la mañana de Pascua y del encuentro con Jesús resucitado. En aquel momento, nada más importaba a quienes descubrieron Mi verdad."

"Quiero unirme a ustedes cuando celebren la más grande de las Fiestas. Estemos juntos todo el día, uniéndonos espiritualmente y olvidando todos los problemas. Con Mi ayuda, ustedes pueden hacer esto. Mi ayuda siempre está a su disposición, incluso durante la crisis más grande que tengan. Encuéntrenme anhelando estar Conmigo."

Lean Mateo 28:1-7




Pasado el sábado, al amanecer del primer día de la semana, María Magdalena y la otra María fueron a visitar el sepulcro. De pronto, se produjo un gran temblor de tierra: el Ángel del Señor bajó del cielo, hizo rodar la piedra del sepulcro y se sentó sobre ella.3 Su aspecto era como el de un relámpago y sus vestiduras eran blancas como la nieve. Al verlo, los guardias temblaron de espanto y quedaron como muertos. El Ángel dijo a las mujeres: 'No teman, yo sé que ustedes buscan a Jesús, el Crucificado. No está aquí, porque ha resucitado como lo había dicho. Vengan a ver el lugar donde estaba, y vayan en seguida a decir a sus discípulos: "Ha resucitado de entre los muertos, e irá antes que ustedes a Galilea: allí lo verán". Esto es lo que tenía que decirles'.

Marcos 16:1-8
Pasado el sábado, María Magdalena, María, la madre de Santiago, y Salomé compraron perfumes para ungir el cuerpo de Jesús. A la madrugada del primer día de la semana, cuando salía el sol, fueron al sepulcro. Y decían entre ellas: '¿Quién nos correrá la piedra de la entrada del sepulcro?'. Pero al mirar, vieron que la piedra había sido corrida; era una piedra muy grande. Al entrar al sepulcro, vieron a un joven sentado a la derecha, vestido con una túnica blanca. Ellas quedaron sorprendidas, pero él les dijo: 'No teman. Ustedes buscan a Jesús de Nazaret, el Crucificado. Ha resucitado, no está aquí. Miren el lugar donde lo habían puesto. Vayan ahora a decir a sus discípulos y a Pedro que él irá antes que ustedes a Galilea; allí lo verán, como él se lo había dicho'. Ellas salieron corriendo del sepulcro, porque estaban temblando y fuera de sí. Y no dijeron nada a nadie, porque tenían miedo.
RE: Latest messages are at Holy Love Ministries (www.holylove.org) and Ministerios del Amor Santo (www.amorsanto.com)