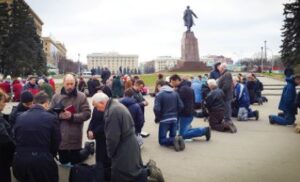 April 13, 2022
Once again, I (Maureen) see a Great Flame that I have come to know as the Heart of God the Father. He says: "Children, today, I ask that you pray that evil is exposed for what it is in the hearts of those who perpetrate evil. A false conscience is Satan's tool and instrument of the evil that takes advantage of the innocent. These days, many are suffering for the sake of evil goals. Innocent children are orphaned and on their own. Human traffickers are descending upon them like birds of prey. Those responsible do not respond to any conviction of heart."

"Please pray that good is victorious even in this most gruesome of situations. The Holy Mother* is weeping copious tears for the little children I speak of today. Console Her by pleading for their welfare to the Eucharistic Heart of Jesus."

Read Ephesians 6:1-17+




Children, obey your parents in the Lord, for this is right. "Honor your father and mother" (this is the first commandment with a promise), "that it may be well with you and that you may live long on the earth." Fathers, do not provoke your children to anger, but bring them up in the discipline and instruction of the Lord. Slaves, be obedient to those who are your earthly masters, with fear and trembling, in singleness of heart, as to Christ; not in the way of eye-service, as men-pleasers, but as servants of Christ, doing the will of God from the heart, rendering service with a good will as to the Lord and not to men, knowing that whatever good any one does, he will receive the same again from the Lord, whether he is a slave or free. Masters, do the same to them, and forbear threatening, knowing that he who is both their Master and yours is in heaven, and that there is no partiality with him. Finally, be strong in the Lord and in the strength of his might. Put on the whole armor of God, that you may be able to stand against the wiles of the devil. For we are not contending against flesh and blood, but against the principalities, against the powers, against the world rulers of this present darkness, against the spiritual hosts of wickedness in the heavenly places. Therefore take the whole armor of God, that you may be able to withstand in the evil day, and having done all, to stand. Stand therefore, having fastened the belt of Truth around your waist, and having put on the breastplate of righteousness, and having shod your feet with the equipment of the gospel of peace; besides all these, taking the shield of faith, with which you can quench all the flaming darts of the Evil One. And take the helmet of salvation, and the sword of the Spirit, which is the word of God.

+ Scripture verses asked to be read by God the Father.

 

13 de Abril del 2022
Nuevamente veo una gran llama que he llegado a reconocer como el Corazón de Dios Padre. Dice: "Hijos, hoy les pido que recen para que el mal quede expuesto por lo que es en los corazones de quienes cometen el mal. Una conciencia falsa es la herramienta de Satanás y el instrumento maligno que se aprovecha del inocente. En la actualidad, muchos están sufriendo por causa de propósitos malvados. Niños inocentes quedan huérfanos y solos. La trata de personas está descendiendo sobre ellos como aves de rapiña. Los responsables no responden a ningún reproche del corazón."

"Les pido que recen pidiendo que el bien triunfe incluso en la más terrible de las situaciones. La Santa Madre llora copiosamente por los pequeños niños de los que hablo hoy. Consuélenla suplicando al Corazón Eucarístico de Jesús por el bienestar de ellos."

Lean Efesios 6:10-17 Por lo demás, fortalézcanse en el Señor con la fuerza de su poder. Revístanse con la armadura de Dios, para que puedan resistir las insidias del demonio. Porque nuestra lucha no es contra enemigos de carne y sangre, sino contra los Principados y Potestades, contra los Soberanos de este mundo de tinieblas, contra los espíritus del mal que habitan en el espacio. Por lo tanto, tomen la armadura de Dios, para que puedan resistir en el día malo y mantenerse firmes después de haber superado todos los obstáculos. Permanezcan de pie, ceñidos con el cinturón de la verdad y vistiendo la justicia como coraza. Calcen sus pies con el celo para propagar la Buena Noticia de la paz. Tengan siempre en la mano el escudo de la fe, con el que podrán apagar todas las flechas encendidas del Maligno. Tomen el casco de la salvación, y la espada del Espíritu, que es la Palabra de Dios.
RE: Latest messages are at Holy Love Ministries (www.holylove.org) and Ministerios del Amor Santo (www.amorsanto.com)