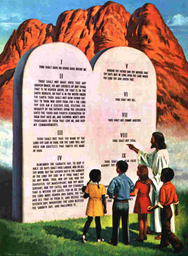 God The Father
Palm Sunday
April 10, 2022
Once again, I (Maureen) see a Great Flame that I have come to know as the Heart of God the Father. He says: "Children, My Commandments* are the foundation of your personal holiness and salvation. To know them is not enough. You must internalize them and obey them. This is the path to Heaven. This is what pleases Me. Even your weakest effort at obedience is commendable. When you revere My Commandments, you show Me your desire to please Me. I, in turn, desire to please you and to grant you many graces."

"Love Me enough to love My Commandments. Be an example of this Holy Love** which I call you to. This is the way to demonstrate to others their path to salvation."

Read 1 John 3:21-22+




Beloved, if our hearts do not condemn us, we have confidence before God; and we receive from him whatever we ask, because we keep his commandments and do what pleases him.




+ Scripture verses asked to be read by God the Father.

 

10 de Abril del 2022
Nuevamente veo una gran llama que he llegado a reconocer como el Corazón de Dios Padre. Dice: "Hijos, Mis mandamientos son el cimiento de su santidad personal y su salvación. No es suficiente conocerlos; deben asimilarlos y obedecerlos. Este es el camino al Cielo. Esto es lo que me agrada. Incluso el más débil esfuerzo por obedecer es meritorio. Cuando respetan Mis mandamientos, ustedes me demuestran su deseo por agradarme. Yo, a cambio, deseo complacerlos y concederles abundantes gracias."

"Ámenme lo suficiente para amar Mis mandamientos. Sean ejemplo de este Amor Santo al que Yo los llamo. Esta es la manera de demostrar a los demás su sendero a la salvación."

Lean 1ª Juan 3:21-24




Queridos míos, si nuestro corazón no nos hace ningún reproche, podemos acercarnos a Dios con plena confianza, y él nos concederá todo cuanto le pidamos, porque cumplimos sus mandamientos y hacemos lo que le agrada.
RE: Latest messages are at Holy Love Ministries (www.holylove.org) and Ministerios del Amor Santo (www.amorsanto.com)