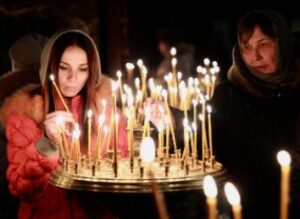 April 9, 2022
Once again, I (Maureen) see a Great Flame that I have come to know as the Heart of God the Father. He says: "As the seasons change from winter to spring in the temporal world, let this be the season of prayer and sacrifice spiritually. Poor leadership has encouraged inhuman actions in the world. I refer to poor leadership in Russia and in this country*. Weakness on the part of your President** has encouraged aggression in the Ukraine. These atrocious war crimes were measured and acted upon according to the anticipated lack of response from this country."

"Politics will only change through prayer and fasting. Politics cannot change unless hearts change. Poor leadership, which takes such a toll, calls upon My Wrath. Pray for the victims of such poor leadership – they suffer grave atrocities."

Read Ephesians 6:10-16+




Finally, be strong in the Lord and in the strength of his might. Put on the whole armor of God, that you may be able to stand against the wiles of the devil. For we are not contending against flesh and blood, but against the principalities, against the powers, against the world rulers of this present darkness, against the spiritual hosts of wickedness in the heavenly places. Therefore take the whole armor of God, that you may be able to withstand in the evil day, and having done all, to stand. Stand therefore, having fastened the belt of Truth around your waist, and having put on the breastplate of righteousness, and having shod your feet with the equipment of the gospel of peace; besides all these, taking the shield of faith, with which you can quench all the flaming darts of the Evil One.

+ Scripture verses asked to be read by God the Father.

 

9 de Abril del 2022
Nuevamente veo una gran llama que he llegado a reconocer como el Corazón de Dios Padre. Dice: "Conforme cambian las estaciones de invierno a primavera en el mundo temporal, que esta sea la época de oración y sacrificio espiritual. El liderazgo deficiente ha alentado a acciones inhumanas en el mundo. Me refiero al liderazgo deficiente en Rusia y en este País. La debilidad por parte de su Presidente (Joseph R. Biden) ha favorecido la agresión en Ucrania. Estos atroces crímenes de guerra fueron medidos y puestos en marcha conforme a la anticipada falta de respuesta por parte de este País (EE.UU.)."

"La política cambiará solo por medio de la oración y el ayuno. La política no podrá cambiar si los corazones no cambian. El liderazgo deficiente, que causa tantos estragos, invoca Mi ira. Recen pidiendo por las víctimas de semejante liderazgo deficiente; ellos sufren serias atrocidades."

Lean Efesios 6:10-16




Por lo demás, fortalézcanse en el Señor con la fuerza de su poder. Revístanse con la armadura de Dios, para que puedan resistir las insidias del demonio. Porque nuestra lucha no es contra enemigos de carne y sangre, sino contra los Principados y Potestades, contra los Soberanos de este mundo de tinieblas, contra los espíritus del mal que habitan en el espacio. Por lo tanto, tomen la armadura de Dios, para que puedan resistir en el día malo y mantenerse firmes después de haber superado todos los obstáculos. Permanezcan de pie, ceñidos con el cinturón de la verdad y vistiendo la justicia como coraza. Calcen sus pies con el celo para propagar la Buena Noticia de la paz. Tengan siempre en la mano el escudo de la fe, con el que podrán apagar todas las flechas encendidas del Maligno.
RE: Latest messages are at Holy Love Ministries (www.holylove.org) and Ministerios del Amor Santo (www.amorsanto.com)
Download e-Book!                                                                            ¡Descargar E-Libro!