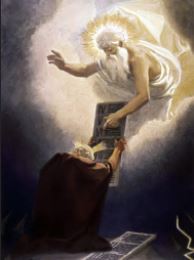 May 26, 2022
Once again, I (Maureen) see a Great Flame that I have come to know as the Heart of God the Father. He says: "Children, every present moment is the opportunity to choose good over evil. The most important times in any soul's life are now and at the hour of their death. Believe in this and live accordingly. Always choose obedience to My Commandments** and you will choose your own salvation. My Shield of favor covers those who live according to My Commandments."

"Each present moment presents its own test of virtue. Pray to recognize the spiritual challenges. It is then that you can grow spiritually. No one is tested beyond his measure. If you strive to live within the confines of My Commandments, I will assist you by exposing evil."




Read 1 John 3:21-22+




Beloved, if our hearts do not condemn us, we have confidence before God; and we receive from him whatever we ask, because we keep his commandments and do what pleases him.




+ Scripture verses asked to be read by God the Father. (Please note: all Scripture given by Heaven refers to the Bible used by the visionary. Ignatius Press – Holy Bible – Revised Standard Version – Second Catholic Edition.)

* To LISTEN or READ the nuances & depth of the Ten Commandments given by God the Father from June 24 – July 3, 2021, please click here: https://www.holylove.org/ten/

 

26 de Mayo del 2022
Nuevamente veo una gran llama que he llegado a reconocer como el Corazón de Dios Padre. Dice: "Hijos, cada momento presente es una oportunidad para elegir el bien sobre el mal. Los tiempos más importantes en la vida de cualquier alma son el ahora y el momento de su muerte. Crean en esto y vivan en consecuencia. Elijan siempre obedecer Mis mandamientos, y ustedes elegirán su propia salvación. Mi escudo de favor cubre a los que viven conforme a Mis mandamientos."

"Cada momento presente expone su propia prueba en la virtud. Recen pidiendo reconocer los desafíos espirituales. Es entonces cuando podrán crecer espiritualmente. Nadie es probado más allá de su capacidad. Si se esfuerzan por vivir dentro de los confines de Mis mandamientos, Yo podré ayudarlos mostrándoles el mal."

Lean 1ª Juan 3:21-22




Queridos míos, si nuestro corazón no nos hace ningún reproche, podemos acercarnos a Dios con plena confianza, y él nos concederá todo cuanto le pidamos, porque cumplimos sus mandamientos y hacemos lo que le agrada.
RE: Latest messages are at Holy Love Ministries (www.holylove.org) and Ministerios del Amor Santo (www.amorsanto.com)