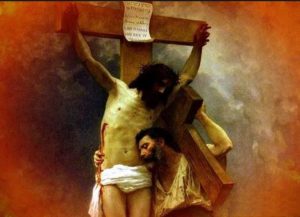 April 1, 2022
Once again, I (Maureen) see a Great Flame that I have come to know as the Heart of God the Father. He says: "Children, everything that I allow in the present moment has passed through the sieve of My Divine Will. The greatest reward awaits those who believe this and can accept My Will even when it means bearing a cross. No one is able to journey through life apart from the cross – the cross which is life-giving. The degree of your acceptance marks the depth of your sanctification. Trust that I see your journey in faith and am next to you leading you."

"Sometimes, no amount of preparation can prepare you for all that the present moment offers. It is the faith in your heart that helps you accept what the present moment gives to you. Remember My Words to you today in the midst of your greatest tests and trials."

Read Ephesians 2:8-10+




For by grace you have been saved through faith; and this is not your own doing, it is the gift of God – not because of works, lest any man should boast. For we are his workmanship, created in Christ Jesus for good works, which God prepared beforehand, that we should walk in them.




+ Scripture verses asked to be read by God the Father.

 

1º de Abril del 2022
Nuevamente veo una gran llama que he llegado a reconocer como el Corazón de Dios Padre. Dice: "Hijos, todo lo que Yo permito en el momento presente ha pasado por la criba de Mi Divina Voluntad. La recompensa más grande aguarda a quienes creen en esto y pueden aceptar Mi Voluntad incluso cuando esto significa llevar una cruz. Nadie puede caminar por la vida separado de la cruz; la cruz que da vida. El grado de su aceptación indica la profundidad de su santificación. Confíen en que Yo veo su camino en la fe y que estoy a su lado guiándolos."

"Algunas veces, ninguna preparación puede disponerlos para todo lo que les ofrece el momento presente. Es la fe en el corazón lo que les ayuda a aceptar lo que el momento presente les da. Recuerden Mis palabras hoy en medio de sus más grandes pruebas y dificultades."

Efesios 2:8-10




Porque ustedes han sido salvados por su gracia, mediante la fe. Esto no proviene de ustedes, sino que es un don de Dios; y no es el resultado de las obras, para que nadie se gloríe. Nosotros somos creación suya: fuimos creados en Cristo Jesús, a fin de realizar aquellas buenas obras, que Dios preparó de antemano para que las practicáramos

.
RE: Latest messages are at Holy Love Ministries (www.holylove.org) and Ministerios del Amor Santo (www.amorsanto.com)