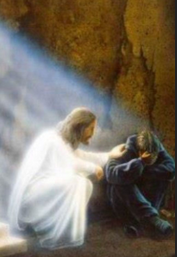 March 31, 2022
Once again, I (Maureen) see a Great Flame that I have come to know as the Heart of God the Father. He says: "In any particular dilemma, it is your trust in My Provision which will carry you through to victory. My Provision is the solution to seemingly insurmountable problems. Therefore, be at peace. When your trust is attacked, so too is your peace attacked."

"Lack of peace presents itself in difficulty to pray as you should. Lack of peace is always from evil who seeks to come between any soul and Me. Safely guard your trust in Me by paying heed to whatever is attacking your peace and recognizing it as Satan."

"Seek My help in resolving issues which disturb your peace."

Read Psalm 23+
The LORD is my shepherd, I shall not want;
he makes me lie down in green pastures.
He leads me beside still waters;
he restores my soul.
He leads me in paths of righteousness
for his name's sake.

Even though I walk through the valley of the shadow of death,
I fear no evil;
for thou art with me;
your rod and your staff,
they comfort me.
You prepare a table before me
in the presence of my enemies;
you anoint my head with oil,
my cup overflows.

Surely goodness and mercy shall follow me
all the days of my life;
and I shall dwell in the house of the LORD
for ever.
+ Scripture verses asked to be read by God the Father.

 

31 de Marzo del 2022
Nuevamente veo una gran llama que he llegado a reconocer como el Corazón de Dios Padre. Dice: "En cada dilema particular, su confianza en Mi provisión es lo que los llevará a la victoria. Mi provisión es la solución a los problemas aparentemente insuperables. Por lo tanto, estén en paz. Cuando su confianza es atacada, también es atacada su paz."

"La falta de paz se presenta en la dificultad para rezar como deberían. La falta de paz siempre proviene del mal que busca interponerse entre un alma y Yo. Protejan bien su confianza en Mí prestando atención a todo lo que ataque su paz y reconociéndolo como Satanás."

"Busquen Mi ayuda para resolver los problemas que perturban su paz."

Lean Salmo 23
El Señor es mi pastor, nada me puede faltar. Él me hace descansar en verdes praderas, me conduce a las aguas tranquilas y repara mis fuerzas; me guía por el recto sendero, por amor de su Nombre. Aunque cruce por oscuras quebradas, no temeré ningún mal, porque tú estás conmigo: tu vara y tu bastón me infunden confianza. Tú preparas ante mí una mesa, frente a mis enemigos; unges con óleo mi cabeza y mi copa rebosa. Tu bondad y tu gracia me acompañan a lo largo de mi vida; y habitaré en la Casa del Señor, por muy largo tiempo.
RE: Latest messages are at Holy Love Ministries (www.holylove.org) and Ministerios del Amor Santo (www.amorsanto.com)