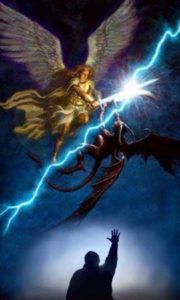 September 3, 2022
Once again, I (Maureen) see a Great Flame that I have come to know as the Heart of God the Father. He says: "Spiritual fortitude is a rarity these days. The world is winning out in many arenas of spiritual battles. It requires a strong resolve to maintain a firm faith these days. Most people do not notice where their faith is. Is it strong or weak in the midst of the crisis of faith these days? Fortitude does not come into play unless the soul recognizes the battle between good and evil. You cannot win a war unless you engage in battle. Once the war is recognized, fortitude is the weapon against weakness."

"Pray for the spiritual enlightenment of all souls so that they recognize the enemy of spiritual fortitude and engage this enemy in battle."

Read Ephesians 6:10-18+




Finally, be strong in the Lord and in the strength of his might. Put on the whole armor of God, that you may be able to stand against the wiles of the devil. For we are not contending against flesh and blood, but against the principalities, against the powers, against the world rulers of this present darkness, against the spiritual hosts of wickedness in the heavenly places. Therefore take the whole armor of God, that you may be able to withstand in the evil day, and having done all, to stand. Stand therefore, having fastened the belt of Truth around your waist, and having put on the breastplate of righteousness, and having shod your feet with the equipment of the gospel of peace; besides all these, taking the shield of faith, with which you can quench all the flaming darts of the Evil One. And take the helmet of salvation, and the sword of the Spirit, which is the word of God. Pray at all times in the Spirit, with all prayer and supplication. To that end keep alert with all perseverance, making supplication for all the saints.

+ Scripture verses asked to be read by God the Father.

 

3 de septiembre de 2022
Una vez más, yo (Maureen) veo una Gran Llama que he llegado a conocer como el Corazón de Dios Padre. Él dice: "La fortaleza espiritual es una rareza en estos días. El mundo está ganando en muchas arenas de batallas espirituales. Se requiere una fuerte determinación para mantener una fe firme en estos días. La mayoría de las personas no se dan cuenta de dónde está su fe. ¿Es fuerte? o débil en medio de la crisis de fe en estos días? La fortaleza no entra en juego a menos que el alma reconozca la batalla entre el bien y el mal. No puedes ganar una guerra a menos que entres en batalla. Una vez que se reconoce la guerra, la fortaleza es el arma contra la debilidad".

"Orad por la iluminación espiritual de todas las almas para que reconozcan al enemigo de la fortaleza espiritual y se enfrenten a este enemigo en la batalla".

Lea Efesios 6:10-18+




Finalmente, sean fuertes en el Señor y en la fuerza de su poder. Vestíos de toda la armadura de Dios, para que podáis estar firmes contra las asechanzas del diablo. Porque no luchamos contra sangre y carne, sino contra principados, contra potestades, contra los gobernadores de este mundo de tinieblas, contra huestes espirituales de maldad en las regiones celestiales. Por tanto, tomad toda la armadura de Dios, para que podáis resistir en el día malo, y habiendo acabado todo, estar firmes. Estad, pues, firmes, ceñidos a vuestros lomos el cinturón de la Verdad, y vestidos con la coraza de justicia, y calzados los pies con el equipo del evangelio de la paz; además de todo esto, tomad el escudo de la fe, con que podáis apagar todos los dardos de fuego del Maligno. Y tomad el yelmo de la salvación, y la espada del Espíritu, que es la palabra de Dios. Orad en todo tiempo en el Espíritu, con toda oración y súplica. A tal efecto velad con toda perseverancia, haciendo súplicas por todos los santos.

+ Versículos de las Escrituras que Dios Padre pidió que leyeran

.
RE: Latest messages are at Holy Love Ministries (www.holylove.org) and Ministerios del Amor Santo (www.amorsanto.com)