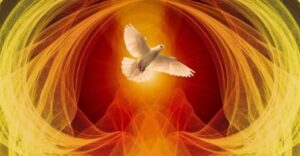 Solemnity of Pentecost
June 5, 2022
Once again, I (Maureen) see a Great Flame that I have come to know as the Heart of God the Father. He says: "Children, I invite you to see My Spirit as your Protector, Advocate and Provider. My Spirit calls to you in times of doubt – reaches out to you in your fears. My Spirit confides to you all you need know. Pray to recognize the Voice of My Spirit in your any need. This is how to remain united to the Truth."

Read Acts 2:1-4+

The Coming of the Holy Spirit

When the day of Pentecost had come, they were all together in one place. And suddenly a sound came from heaven like the rush of a mighty wind, and it filled all the house where they were sitting. And there appeared to them tongues as of fire, distributed and resting on each one of them. And they were all filled with the Holy Spirit and began to speak in other tongues, as the Spirit gave them utterance.

+ Scripture verses asked to be read by God the Father.

 

5 de Junio del 2022




Nuevamente veo una gran llama que he llegado a reconocer como el Corazón de Dios Padre. Dice: "Hijos, los invito a ver Mi Espíritu como su protector, abogado y proveedor. Mi Espíritu los convoca en tiempos de duda. Llega a ustedes en sus temores. Mi Espíritu les confía todo lo que necesitan saber. Recen pidiendo reconocer la voz de Mi Espíritu en cualquier necesidad que tengan. Esta es la manera de permanecer unidos a la verdad."

Lean Hechos 2:1-4




Al llegar el día de Pentecostés, estaban todos reunidos en el mismo lugar. De pronto, vino del cielo un ruido, semejante a una fuerte ráfaga de viento, que resonó en toda la casa donde se encontraban. Entonces vieron aparecer unas lenguas como de fuego, que descendieron por separado sobre cada uno de ellos. Todos quedaron llenos del Espíritu Santo, y comenzaron a hablar en distintas lenguas, según el Espíritu les permitía expresarse.
RE: Latest messages are at Holy Love Ministries (www.holylove.org) and Ministerios del Amor Santo (www.amorsanto.com)