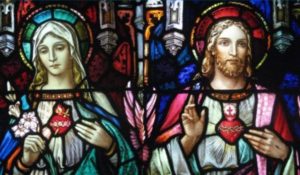 June 6, 2022
Once again, I (Maureen) see a Great Flame that I have come to know as the Heart of God the Father. He says: "When you honor Our United Hearts by displaying Them in your home, your home is then consecrated to the Truth. The Truth comes to you through the Blessing of the Holy Spirit Who abides with whoever esteems the United Hearts."

"Devotion to the United Hearts helps the soul to discern good from evil and the path of salvation. True devotion to Our United Hearts is a sign of predestination. True devotion is not superficial, but is found deep in the heart and is unshakable. It is a surrender of the whole heart to pleasing Me through love of the United Hearts."

Read Psalm 139:23-24+

Search me, O God, and know my heart! Try me and know my thoughts! And see if there be any wicked way in me, and lead me in the way everlasting!

+ Scripture verses asked to be read by God the Father.

 

6 de Junio del 2022
Nuevamente veo una gran llama que he llegado a reconocer como el Corazón de Dios Padre. Dice: "Cuando ustedes honran a Nuestros Corazones Unidos exhibiendo la imagen en sus hogares, entonces sus hogares están consagrados a la verdad. La verdad les llega a través de la bendición del Espíritu Santo que habita en todo aquel que tiene aprecio por los Corazones Unidos."

"La devoción a los Corazones Unidos ayuda al alma a distinguir el bien del mal y el sendero de la salvación. La devoción auténtica a Nuestros Corazones Unidos es un signo de predestinación. La devoción auténtica no es superficial, sino está fundada en lo profundo del corazón y es inquebrantable. Es una rendición del corazón completo para agradarme a través del amor a los Corazones Unidos."

Lean Salmo 139:23-24




Sondéame, Dios mío, y penetra mi interior; examíname y conoce lo que pienso; observa si estoy en un camino falso y llévame por el camino eterno.
RE: Latest messages are at Holy Love Ministries (www.holylove.org) and Ministerios del Amor Santo (www.amorsanto.com)