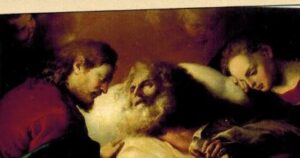 July 10, 2022
Once again, I (Maureen) see a Great Flame that I have come to know as the Heart of God the Father. He says: "Children, do not be distracted or discouraged by the shortcomings of others in their spiritual journey. Just be steadfast in your own journey of Holy Love.* It is always your prayers and sacrifices that can change people's agenda in life. Discouragement in this is your enemy."

"Each soul is granted the grace they need towards their own salvation. It is up to free will how this grace is spent. Some receive spectacular grace as they take their last breath. When you encounter those who seem indifferent towards their own salvation, pray that as they breathe their last breath, they will open their hearts to this salvific grace and surrender to it."

"A lot of the soul's salvation hinges upon self-forgiveness which opens the door to My Infinite Love."

Read Colossians 3:12-17+

Put on then, as God's chosen ones, holy and beloved, compassion, kindness, lowliness, meekness, and patience, forbearing one another and, if one has a complaint against another, forgiving each other; as the Lord has forgiven you, so you also must forgive. And over all these put on love, which binds everything together in perfect harmony. And let the peace of Christ rule in your hearts, to which indeed you were called in the one body. And be thankful. Let the word of Christ dwell in you richly, as you teach and admonish one another in all wisdom, and as you sing psalms and hymns and spiritual songs with thankfulness in your hearts to God. And whatever you do, in word or deed, do everything in the name of the Lord Jesus, giving thanks to God the Father through him.

+ Scripture verses asked to be read by God the Father.

 

10 de Julio del 2022
Nuevamente veo una gran llama que he llegado a reconocer como el Corazón de Dios Padre. Dice: "Hijos, no se distraigan ni se desanimen por las faltas de otros en su viaje espiritual. Simplemente estén firmes en su propio viaje de Amor Santo. Lo que puede cambiar en vida la agenda de las personas son las oraciones y sacrificios que ustedes hagan por ellas. El desaliento en esto es su enemigo."

"A cada alma se le concede la gracia necesaria para su propia salvación. Depende de la libre voluntad cómo se emplee esta gracia. Algunos reciben una gracia espectacular al momento de su último aliento. Cuando ustedes se encuentren con quien parece indiferente ante su propia salvación, recen pidiendo que, al dar su último aliento, ellos abran sus corazones a esta gracia salvífica y se rindan a ella."

"Gran parte de la salvación del alma depende del perdón a sí misma que abre la puerta a Mi amor infinito."

Lean Colosenses 3:12-17
Como elegidos de Dios, sus santos y amados, revístanse de sentimientos de profunda compasión. Practiquen la benevolencia, la humildad, la dulzura, la paciencia. Sopórtense los unos a los otros, y perdónense mutuamente siempre que alguien tenga motivo de queja contra otro. El Señor los ha perdonado: hagan ustedes lo mismo. Sobre todo, revístanse del amor, que es el vínculo de la perfección. Que la paz de Cristo reine en sus corazones: esa paz a la que han sido llamados, porque formamos un solo Cuerpo. Y vivan en la acción de gracias. Que la Palabra de Cristo resida en ustedes con toda su riqueza. Instrúyanse en la verdadera sabiduría, corrigiéndose los unos a los otros. Canten a Dios con gratitud y de todo corazón salmos, himnos y cantos inspirados. Todo lo que puedan decir o realizar, háganlo siempre en nombre del Señor Jesús, dando gracias por él a Dios Padre.
RE: Latest messages are at Holy Love Ministries (www.holylove.org) and Ministerios del Amor Santo (www.amorsanto.com)