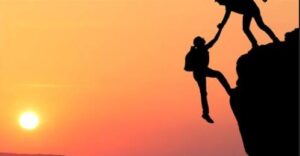 September 30, 2022
Once again, I (Maureen) see a Great Flame that I have come to know as the Heart of God the Father. He says: "Children, store up for yourselves a reservoir of trust in your hearts so that in times of trial you can draw upon this trust to support you spiritually and emotionally. Your trust should be based upon all the favors your prayers have drawn down to earth, upon the love and devotion you carry in your hearts for Me and upon an acceptance of My Divine Will in your lives."

"I permit only what is best for you and for the souls your sacrifices will assist. You, My children, must choose to accept My Will and be at peace even in the midst of adversity or to angrily despise My Will for you."

"I lead each soul to his salvation. All that occurs in his world around him is towards that end. Trust in this – My Promise to you."

Read 1 Peter 5:10-11+
And after you have suffered a little while, the God of all grace, who has called you to his eternal glory in Christ, will himself restore, establish, and strengthen you. To him be the dominion for ever and ever. Amen.
+ Scripture verses asked to be read by God the Father.

 

30 de septiembre de 2022
Una vez más, yo (Maureen) veo una Gran Llama que he llegado a conocer como el Corazón de Dios Padre. Él dice: "Hijos, almacenen para ustedes mismos una reserva de confianza en sus corazones para que en tiempos de prueba puedan recurrir a esta confianza para apoyarlos espiritual y emocionalmente. Su confianza debe basarse en todos los favores que sus oraciones han obtenido. a la tierra, sobre el amor y la devoción que lleváis en vuestros corazones por Mí y sobre la aceptación de Mi Divina Voluntad en vuestras vidas".

"Yo permito sólo lo que es mejor para vosotros y para las almas a las que vuestros sacrificios asistirán. Vosotros, hijos Míos, debéis elegir aceptar Mi Voluntad y estar en paz incluso en medio de la adversidad o despreciar airadamente Mi Voluntad para vosotros."

"Conduzco a cada alma a su salvación. Todo lo que ocurre en su mundo a su alrededor es hacia ese fin. Confía en esto: Mi Promesa para ti".

Lea 1 Pedro 5:10-11+
Y después de haber padecido un poco de tiempo, el Dios de toda gracia, que os llamó a su gloria eterna en Cristo, él mismo os restaurará, establecerá y fortalecerá. A él sea el dominio por los siglos de los siglos. Amén.
+ Versículos de las Escrituras que Dios Padre pidió que leyeran.
RE: Latest messages are at Holy Love Ministries (www.holylove.org) and Ministerios del Amor Santo (www.amorsanto.com)