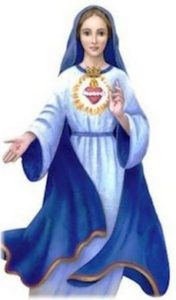 God The Father
June 7, 2022
Once again, I (Maureen) see a Great Flame that I have come to know as the Heart of God the Father. He says: "Prayer is your key to peace. When you cannot pray, you are not at peace. It is then, you face challenges – spiritually and emotionally. So, you must understand, Satan's job is to destroy your peace. It is he who tries to convince you that your prayers are unworthy – even unneeded. He tries every sort of exterior distraction to weaken your concentration and therefore, weaken your prayers. Do not be discouraged in your prayer effort."

"Discouragement is one of Satan's most common and powerful weapons. Pray first for the grace to believe in the power and the necessity of your prayers. It is then, the angels will surround you and help you to pray. The Queen Mother and Protectress of your faith* is a strong ally as a prayer partner. Invoke Her aid."

Read 2 Corinthians 4:8-10, 16-18+

We are afflicted in every way, but not crushed; perplexed, but not driven to despair; persecuted, but not forsaken; struck down, but not destroyed; always carrying in the body the death of Jesus, so that the life of Jesus may also be manifested in our bodies.

Living by Faith

So we do not lose heart. Though our outer man is wasting away, our inner man is being renewed every day. For this slight momentary affliction is preparing for us an eternal weight of glory beyond all comparison, because we look not to the things that are seen but to the things that are unseen; for the things that are seen are transient, but the things that are unseen are eternal.

+ Scripture verses asked to be read by God the Father.

 

7 de Junio del 2022
Nuevamente veo una gran llama que he llegado a reconocer como el Corazón de Dios Padre. Dice: "La oración es su llave a la paz. Cuando no pueden rezar, no tienen paz. Es entonces cuando enfrentan desafíos espirituales y emocionales. Así que tienen que entender que el trabajo de Satanás es destruir su paz. Es él quien intenta convencerlos de que sus oraciones no tienen mérito y que incluso son innecesarias. Él intenta todo tipo de distracciones externas para debilitar su concentración y, por ende, debilitar sus oraciones. No se desalienten en sus esfuerzos de oración."

"El desaliento es una de las armas más comunes y poderosas de Satanás. Recen primero pidiendo la gracia de creer en el poder y en la necesidad de sus oraciones. Es entonces cuando los ángeles los rodearán y los ayudarán a rezar. La Reina Madre y Protectora de su fe es una fuerte aliada como compañera de oración. Invoquen Su ayuda."

Lean 2ª Corintios 4:8-10, 16-18




Estamos atribulados por todas partes, pero no abatidos; perplejos, pero no desesperados; perseguidos, pero no abandonados; derribados, pero no aniquilados. Siempre y a todas partes, llevamos en nuestro cuerpo los sufrimientos de la muerte de Jesús, para que también la vida de Jesús se manifieste en nuestro cuerpo. …Por eso, no nos desanimamos: aunque nuestro hombre exterior se vaya destruyendo, nuestro hombre interior se va renovando día a día. Nuestra angustia, que es leve y pasajera, nos prepara una gloria eterna, que supera toda medida. Porque no tenemos puesta la mirada en las cosas visibles, sino en las invisibles: lo que se ve es transitorio, lo que no se ve es eterno.
RE: Latest messages are at Holy Love Ministries (www.holylove.org) and Ministerios del Amor Santo (www.amorsanto.com)